Super Reports is a modern data analysis tool, designed specifically to analyze data from popular apps and APIs.
Simply connect your apps and Super Reports will import your data automatically. That's it! You can then explore the built-in reports or create your own.
With Super Reports, you can:
Access all Shopify data

Select date range

Compare data to the previous period of time

Export reports
Schedule periodic reports
Access all data
a. Segment & analyze customers, sales, products, orders,...
b. Loading reports: The first time you install the app, you need to synchronize all of your existing Shopify data with Super Reports. How long the process takes depends on the amount of data you have. We will send you an email of notification when the data synchronization is complete.
Select date range
Select your preferred time by Select date range to show data or to export reports: Today, last 7 days, month to date, All time data or Custom date range,...
Compare data to the previous period of time
You can choose to compare chosen data to the previous period or the previous year.The comparison interval is shown on the Reports Detail screen.
Export reports
You can choose the format of the reports to be exported, such as CSV, Excel or PDF.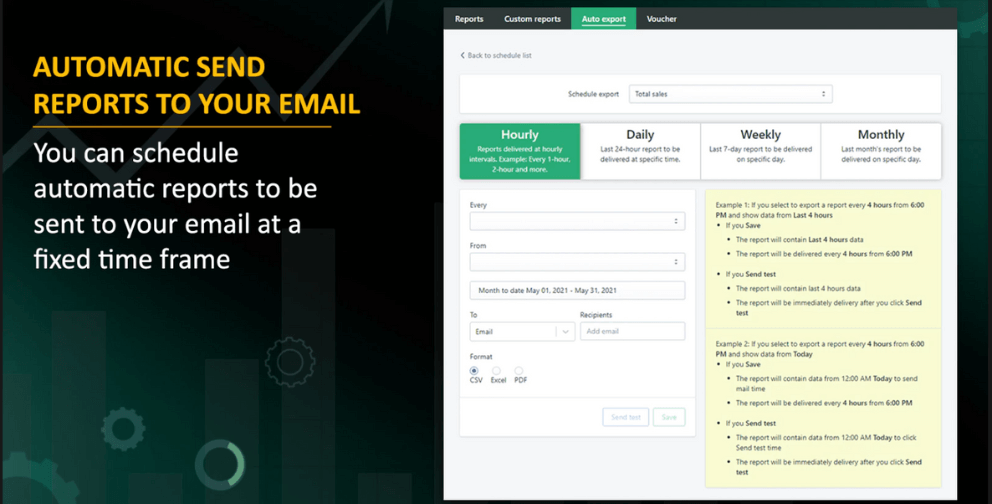 Schedule periodic reports
a. Schedule list
The Schedule List listed below is the schedules that have been established and the status and details of each, such as Report name, schedule type, data type, next run time,...
You can Send tests, Disable, Edit, or Delete your schedule on this screen.

b. Create schedule
To create a new schedule, click on Create Schedule on the top left of the screen and customize your schedule.
Use App voucher
Step 1: Open the Super Reports application and select the "Voucher" section on the navigation bar.
Step 2: Enter the Voucher code in the box and click "Active"
If the voucher is valid, you will be redirected to the payment page, where you will see the price before and after using the Voucher (in the illustration below is after using the 50% discount voucher with the Basic plan) Shopify )
If you enter the wrong code, the application will display the message "Invalid code"
Each code can only be used once, if you enter used code, the application will display the message "You have used this code"
Each code also has an expiration date for a certain period of time, if you enter the code after the code has expired, the application will display the message "This code is expired".
Finally, if you enter another voucher with a higher value than the first entered voucher, the discount will be calculated according to the voucher you enter the next time.