Shopify allows you to create a unique shopping website as well as contains thousands of apps that allow you to simplify selling online. Here is a list of featured Shopify apps recommended by our experts that can drive your sales like crazy this upcoming black Friday.
The holiday is always the most valuable time to break your sales records and Super Effects – Holiday Boost app will support you to boost traffic and extend profit margins. The app enables you to insert holiday keywords that are popularly searched by online customers and decorate your site with holiday effects and ornaments with ease. With over 50 decoration ideas with stunning effects and tags ideas, your eCommerce website will absolutely prevail over business rivals.
UpPromote is a great app that makes it easy to create and manage affiliate marketing campaigns for your store. With a simple, easy-to-use interface with outstanding features such as: providing a form for affiliate marketing partners to register, providing partners with a referral link or discount code, automatically tracking orders, and calculating the commission for your cooperation.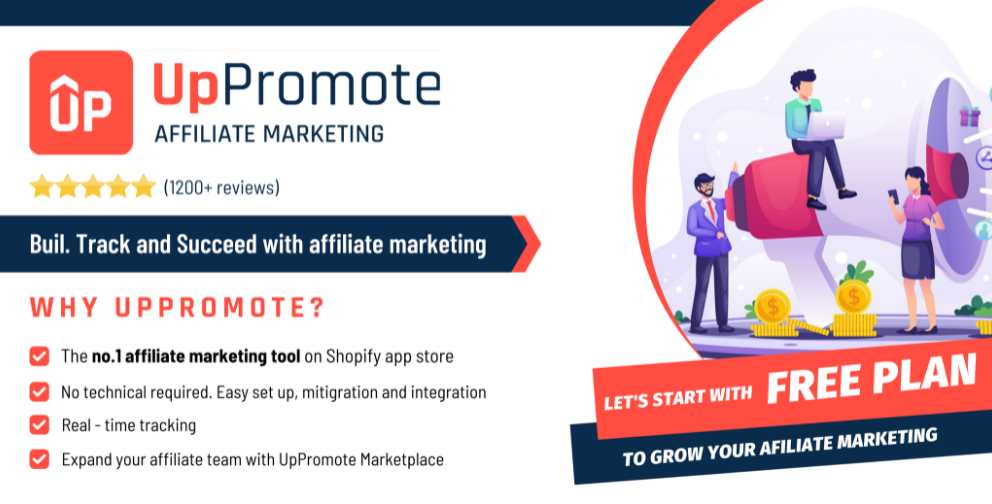 This application also automatically links with third parties such as PayPal or Mailchimp to make it very simple to use. The application has a free package for you to experience, then you can use the paid plans with more advanced features.
Reports on your marketing and product performance are essential to ensure that your target is being approached. Super Reports – Auto Exports can create reports of purchase orders, customers, finance, sales, and products constantly. Super Reports also helps you to closely track the inventory levels, fulfillment of items and orders as well as most/least lucrative items. Optimizing data, managing budget plans according to data reports, and optional report making, Super Reports, with no doubt, is the insurrection of report exports.
Shoppable Instagram Feed is a great tool to display your high converting and appealing Instagram feed on any Shopify store page. With this app, you can tag products on photos and let your customers shop right from the feed. Customize your feed with various design options to match your theme.

The Instagram feed is constantly updated, so your customers can enjoy real-time and freshen content. Also, all images will automatically adjust to fit all screen sizes, keeping your feed responsive on both mobile and desktop views.
If you are seeking an advanced watermark and badge editing application, Super Watermarks is highly recommended. You can insert watermarks, logos, labels, badges, frames, and stickers into your photos to avoid copycats.
Super Watermarks offer thousands of templates including festival, discount, best-seller, flash sale, and so on, which can be added instantly to your photos all-in-one-click. By Super Watermarks – Badges, the worries of copyright and festival vibe updating are over.
Metrilo is a top-notch tool to understand insights into your marketing and sales in order to discover the potential opportunities to boost revenue. Analyzing eCommerce performance, seeking new possibilities to optimize sales and growing shopper retention are all available.
Another app to keep in contact with your shoppers. MailerLite can sync the newsletter subscribers and your site customers and incredibly save your Shopify customers with name, email, contact point, and their order information. More importantly, it will not spam your customers since sending emails is optional, only people who accept to receive newsletters will be informed.
The effectiveness of SEO Image Optimizer has been proved over years and recommended by thousands of users. The app can entirely support you to optimize search traffic, evaluate your SEO campaign by sending weekly reports and fix SEO matters by AutoPilot feature according to your customizable rules.
Shoelace provides Shopify site owners with the most powerful retargeting strategy. It can design triggers automatically creating retargeting ads for Facebook and Instagram and keep your customers updated with the latest information of your products and Shopify store activities.
Impressing your customers with a dedicated video will be an effective way to build your site's trustworthiness and draw the attention of new customers. With Vimeo Create, you need no experience to create your video, answering a couple of questions, Video Create will automatically generate video for your own products.
Walmart Integration developer is the official partner of Walmart and is successful in serving thousands of merchants of various fields. Introducing your products not only on your Shopify store but also on Walmart will be an outstanding solution to increase profits. The Walmart orders will be synchronized to your Shopify store, other functions such as shipping, refund, adjusting price are all available and applicable.
All of your efforts on your Shopify store is to have more customers add your products to their cart and check out, so why don't give it a try to fasten this period? Add-to-cart and Checkout BOOSTER is the best tool to make your shopper check-out experience become super easy. The app keeps "Add-to-cart" "Call-to-action" buttons visible all the time in order that your customer can check out at any time.
Inventory Planner apps will ensure that you can have a comprehensive understanding of the stock sales trends and situations. You can assure that your customers will never encounter an out-of-stock situation that always destroys their purchase mood. A forecast of trendy and seasonal products and a schedule of promotions will simplify your preparations for the holiday campaign.
Shippo offers an affordable shipping price and method to encourage your customers to purchase more. Shippo is connected with over 50 delivery companies all over the world, such as DHL Express, UPS, FedEx, USPS, Sendle, and more, in particular, the price will be reduced significantly depending on each company. The status of shipping is transparent, updated, and sent to your customers automatically.
Thousands of Shopify and Shopify Plus users have received solid support from Sufio. This app releases your worry about invoices and taxes. Whenever a purchase order is made, paid, or completed in your store, Sufio will create invoices and send them to your customers by email. Sufio can support over 30 languages and show the same currency that your customers used on purchasing in your Shopify store.
This app offers Amazon-like upsell features into your Shopify store. Upsell Recommendations has intelligent product recommendation engines that introduce and even predict the most popular items, best sellers, or most expensive products of your store and then suggest to your Shopify customers.
Happy Returns will help you to build an inclusive return and exchange policy; you can manage and categorize the products which can be either returned or exchanged, create back-listing shoppers and high potential customers, set pre-order for out-of-stock items, etc. The app is also integrated with many shipping companies and is possible to calculate return and exchange costs.

This app will work well for the internal organization of small businesses. Payroll taxes calculation as W-2s, 1099s, or other new forms now just take minutes, you will have three months of the free trial prior to deciding to apply for your Shopify store permanently. Gusto also syncs attendance data, payroll, and manual data entry to your accounting platform with no secret fees or additional charges.
It is struggling to pick the top Shopify apps since all of them are built with great effort. These are just some must-have Shopify apps that can improve your searching traffic, decorate your sites, attract new customers and eventually drive your sales crazily. You can visit the Shopify App store to find the best app for your eCommerce site.