What do you think is the first thing to think about when you want to start an internet business? There are many factors to take into account, the most important of which cannot be ignored is the business model of your business.
Choosing the right business model for your e-commerce business is essential to keeping your store afloat and profitable. However, when planning an e-commerce business, many people make the mistake of going straight to the small details and forgetting that it all depends on what you intend to sell and the model you adopt to sell. sell its products.
Let's find out more about e-commerce business models in the article below.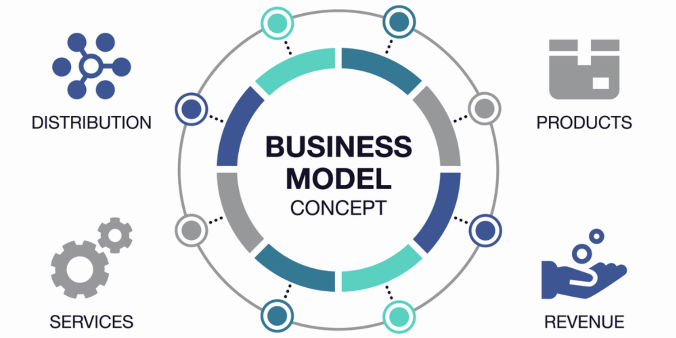 1. Business to business (B2B) model
This is a form of business and trade (including all activities from Marketing to sales and customer care) between one business and another. Some complex transactions will take place based on product purchase and sale quotes, direct agreements, and contract signing between parties.
The difference compared to other business models is that the purchasing process in B2B has its own unique features that save time, costs and bring more different cooperation opportunities. Not only that, the transactions between businesses facilitate the elimination of subjective emotional factors and focus on the interests of the collective, emphasizing more logic.
The reason is that business customers all focus on logic instead of emotions when buying like consumers. Therefore, to be successful with B2B, you need to exploit the characteristics and functions of the product and know the purchasing department of the customer business.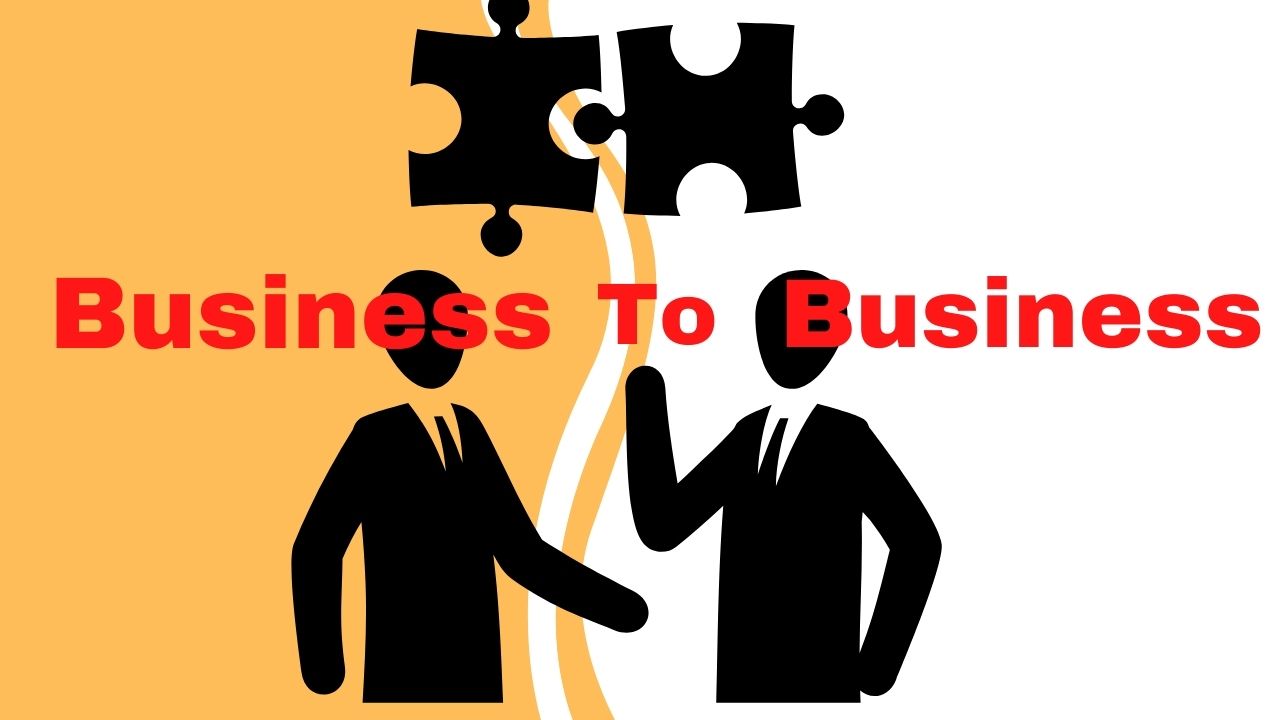 When businesses start to switch to using commercial websites as the main method of information transmission and sales, this model is more and more flourishing. According to statistics in the last two years, the percentage of consumer-centric websites has not increased much, of which the percentage of websites aimed at partners who are organizations or businesses increased from 76.4% to 84.8. %.
2. Business to customer (B2C) model
This is a model in which there is an e-commerce transaction between a business (ie Business) to a consumer (ie Customer), in which commercial transactions are carried out under the support of computing devices. and communication network. In other words, this is a form of business selling goods, products and services to customers in a digital environment.
B2C was popular in the late 90s, when it was used to refer to online retailers that used the digital environment to sell products. Today, more and more companies and businesses are adopting this model. The explosive development of the internet ushered in a new development period with the characteristics of the B2C model, which is the form of sales on e-commerce channels, buying and selling of goods through the internet.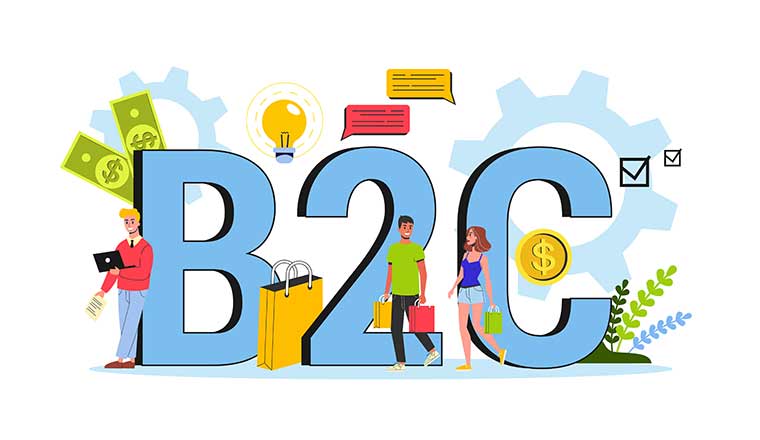 Decision speed is the biggest difference between B2C and B2B. The time of a B2C business model transaction is usually quick, with the purchase process not too complicated, because the transaction object is individuals. Meanwhile, B2B transactions take longer, businesses need to pursue for a long time, build and nurture trust and commitment with customers are other businesses. This leads to the requirement that, for B2C, the time for 1 transaction needs to be as fast as possible.
From the difference between B2C and B2B in terms of decision makers, the value of each transaction of B2C will be much lower than that of B2B because customers are individual customers – compared to businesses. However, a B2B transaction requires businesses to put in more effort and time.
Although the value is lower than B2B per transaction, overall, the total value of B2C transactions is still greater than the total value of B2B transactions (because the number of customers of the B2C model still accounts for a large proportion of the total value of B2C transactions). than in total sales).
3. Customer to customer (C2C) model
C2C is a business model in which the representatives of the buying and selling side are personal. Usually this transaction will be done online, through a third party that is an intermediary online sales platform, or an intermediary auction website.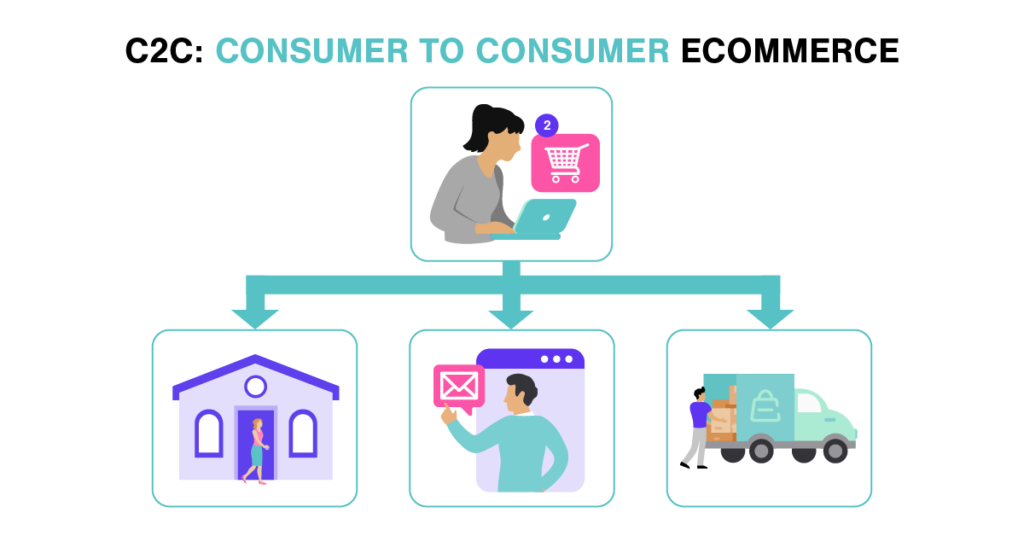 C2C represents transactions between individuals, without the participation of businesses. Therefore, C2C will have the following characteristics:
Competition on business products: As a business model between individuals, C2C allows customers to exchange and buy products with each other. These individuals are not manufacturing enterprises, so the products they sell may no longer appear on the market but are still interested and favored by many people. Wide range of products on sale, both new and used.
Higher profit margin for the seller: Since there is no longer any influence from the manufacturer, retailer or wholesaler, the individual seller will enjoy a higher profit margin from the product sold. go out.
Lack of control in quality and payment: It is also because there is no intervention from the manufacturer or the retailer and wholesaler side, so all products traded in the C2C model will not be strictly controlled in terms of quality and payment.