Why are American e-commerce merchants setting their eyes and pinning their aspirations on the other side of the Atlantic? To begin with, cross-border e-commerce provides tremendous development potential. International sales, which already accounted for 20% of global e-commerce in 2019, rose two times faster than overall e-commerce sales in 2019. (Source: 2020 Global e-Commerce, Transport Intelligence).
The European market also provides access to some of the world's wealthiest nations and more than 450 million potential customers for these businesses. Furthermore, the European e-commerce market is significantly less saturated than the American sector. Customers may be enticed by the prospect of customs duty exemptions and, as a result, a lower total price from American brands selling directly to EU customers online.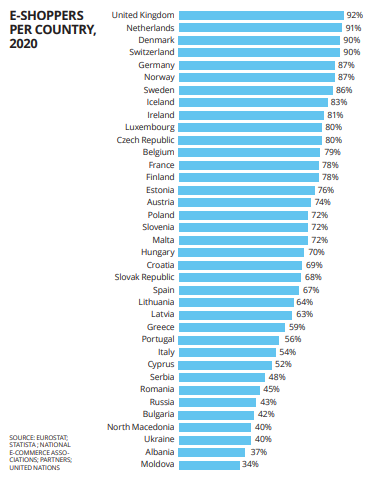 E-shoppers per country in 2020
1. B2C e-commerce in 2021
Ecommerce on the European continent rose 10% to EUR 757 billion from 2019 to 2020, and is anticipated to expand another 12% to EUR 844 billion in 2021. Western Europe continues to lead in turnover, accounting for 64% of overall turnover, followed by Southern Europe (16%). Eastern Europe (36 percent), Central Europe (28 percent), and Southern Europe (24 percent) had the largest turnover growth rates from 2019 to 2020. Moldova (49 percent), Russia (41 percent), North Macedonia (37 percent), and Hungary are the Eastern European countries with the fastest growth rates (35 percent). Ecommerce continues to account for a large portion of retail in Western and Northern Europe, with countries like Denmark (17%), the United Kingdom (15.5%), Finland (8.6%), and Ireland leading the way (8.3 percent).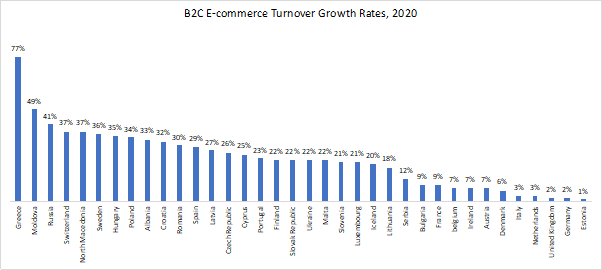 B2C e-commerce turnover growth rates in 2020
In Europe, digital literacy and skills are also on the rise, with internet users rising from 87 percent to 89 percent by 2020. Over 95 percent of people in Western and Northern Europe use the internet, while 77 percent of people in Eastern Europe, where internet use is the lowest on the continent, were online. Perhaps most crucially for ecommerce, the proportion of European e-shoppers increased at an unprecedented rate in 2020, from 66% to 71%. This growth was highest in Central (12%) and Southern (11%) Europe, and the areas are likely to expand at a pace of above 7% in the next few years.
2. Cross-border e-commerce world
According to Cross-Border Commerce Europe's 2020 projections, cross-border commerce accounted for 22 percent of total B2C sales in 15 major European ecommerce markets in 2020. Cross-border turnover accounted for 50%+ of total ecommerce turnover in Finland, Austria, Ireland, Norway, Switzerland, and Sweden, according to this study, which was matched with data from the 2021 European E-commerce Report.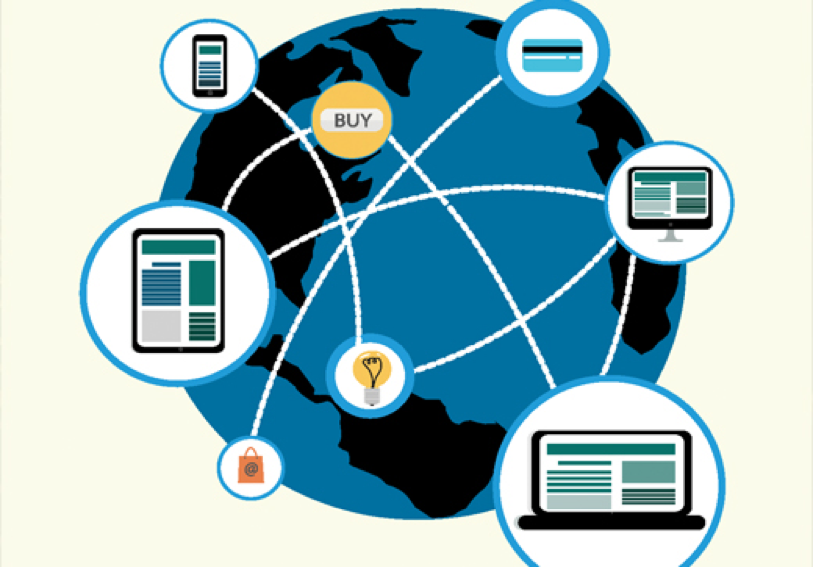 Cross-border e-commerce
The new VAT e-commerce laws, which took effect on July 1, 2021, are likely to have boosted local shopping. Cross-border vendors must now charge the buyer's nation's VAT rate, which applies to all sellers over the micro-enterprise threshold, and they must also register their firm for VAT in either the customer's country or the one-stop shop.
Of fact, the new VAT rule only applies to European nations that operate inside the EU Single Market, which means that international shops wishing to sell into Europe may still do so in numerous Eastern European countries. The overwhelming reliance on cash-on-delivery as a payment mechanism is perhaps the biggest roadblock for global e-retailers trying to sell in Eastern Europe.
Unlike customers in other parts of Europe, a considerable percentage of Eastern Europeans are still unbanked (adults who do not use or have access to traditional financial services like credit cards). Romania (42 percent), Ukraine (37 percent), Bulgaria (28 percent), and Hungary (25 percent) have the highest unbanked rates in Europe, compared to Norway, Sweden, Finland, the Netherlands, and Denmark, which have 0% unbanked, and Belgium, Germany, and Switzerland, which have just 1% unbanked. 
3. Favorable niche to sell online in European market
According to a poll in a recent yStats.com analysis, home goods, food/beverages, and health/beauty were among the fastest-growing online product categories in Europe in 2020. However, when you look at each market separately, you'll notice that the pattern is different. In the United Kingdom, for example, more than half of respondents in 2020 bought garments, shoes, and accessories online, which was the most popular product category. However, in Germany, clothes and accessories came in second place, trailing only consumer electronics, which accounted for over a quarter of all online sales in 2020. According to a poll conducted in October 2020, customers prefer to buy home appliances and technology online in the future, followed by apparel and cosmetics.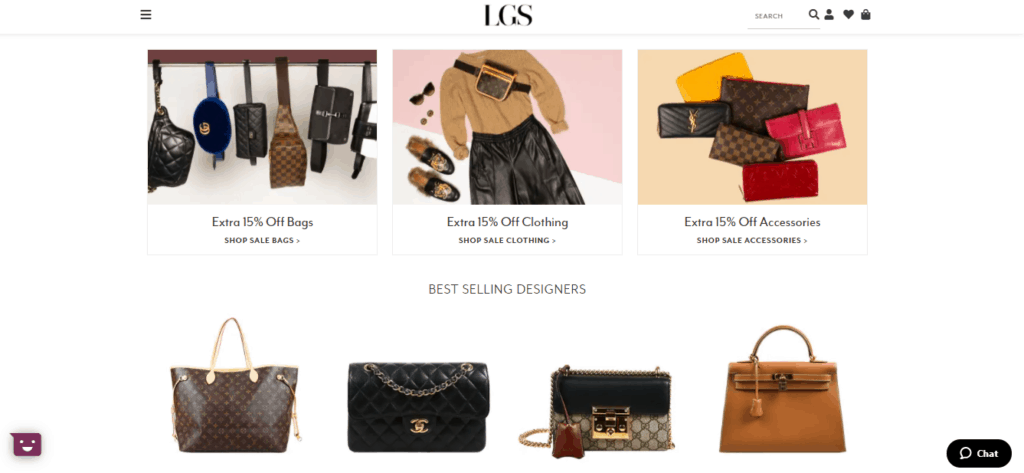 Clothing is one of the best niches in the EU
In Russia, consumer preferences for product segments varied depending on the type of purchase, indicating that consumers preferred to buy consumer electronics online, with clothing and shoes coming in second, while clothing and shoes dominated international purchases and consumer electronics falling behind.
The communities and economics have changed dramatically. Businesses have to speed up their digital transformation to keep up with the fast-changing commercial world. Following a peak in 2020, B2C E-Commerce sales in Europe are expected to gradually increase over the coming years.