Shopify is a popular e-commerce platform that allows merchants to create and manage their online stores with ease. It is an all-in-one solution that offers a variety of features and pricing plans to suit different business needs. In this blog post, we will discuss different 3 standard pricing plans of Shopify and their features with a new policy for Shopify $1. 
Shopify pricing plans: Which is right for you? 
Shopify Standard Plans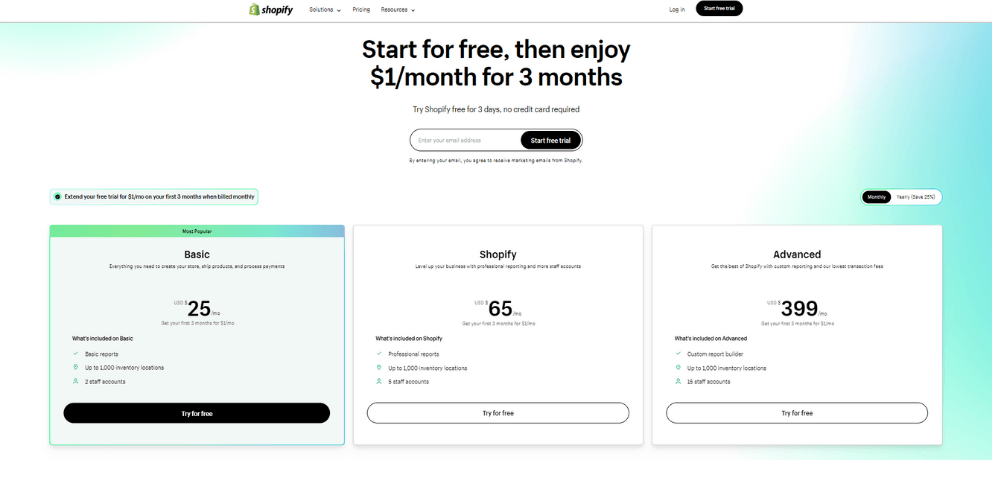 Basic Shopify
Basic Shopify is the next level up from Shopify Lite. It costs $25 per month and offers more features than the basic plan. With Basic Shopify, you can create your own online store, with unlimited products and storage. You can also access 24/7 customer support, discount code creation, and the ability to print shipping labels. However, you cannot create gift cards or professional reports with this plan.
Advanced Shopify
Advanced Shopify is the most expensive plan offered by Shopify. It costs $399 per month and offers all the features of Shopify, plus some additional ones. With Advanced Shopify, you can access advanced report-building tools, third-party calculated shipping rates, and lower credit card fees. You also get access to an advanced report builder and the ability to create up to 15 staff accounts.
Alternative Shopify pricing plans for your business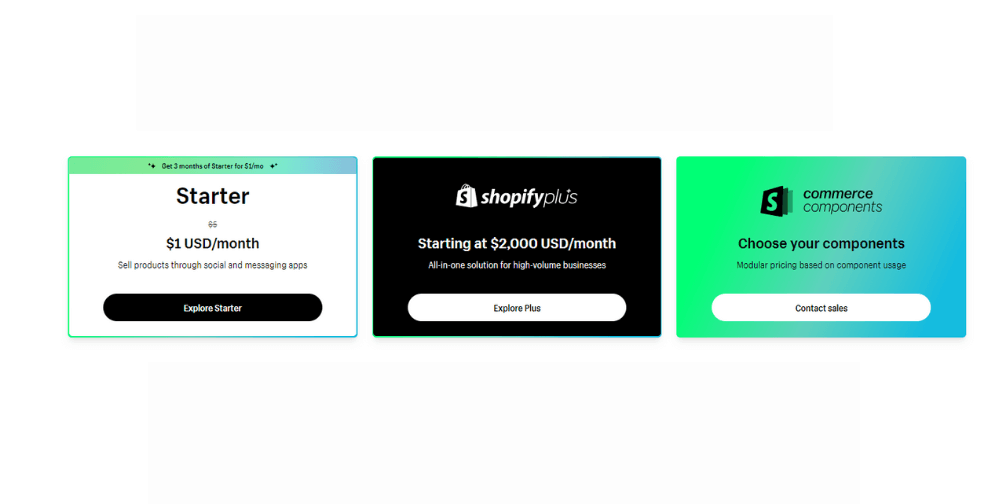 Shopify Lite
Shopify Lite is the most basic plan offered by Shopify. It costs $9 per month and is ideal for small businesses that sell products on social media or other existing websites. With Shopify Lite, you can add a Buy button to your website or blog, and process payments through Shopify. You can also use Shopify's inventory management system to track your products, and access customer data and analytics.
Commerce Component 
Shopify has described Commerce Components as 'the modern composable stack for enterprise retail', but what does that really mean?
Shopify has developed over 30 modular components. Businesses can pick and choose which ones they want and how they want to use them. Particularly, these components are distributed across 6 categories including storefront, cart and checkout, core commerce, data and compliance, shipping and logistics, and omnichannel.
The categories and components represent all of the core support any brand needs to provide its customers with the best possible experience and ensure the business has everything it needs to manage the front and back end of its ecommerce category.
In conclusion, choosing the right Shopify pricing plan for your business requires careful consideration of your budget, business needs, and growth potential. Shopify offers a variety of pricing plans to suit different business needs, so you can choose a plan that fits your budget and helps you grow your business
Shopify store with $1/month is available on 3 standard plans. Start your online business right now!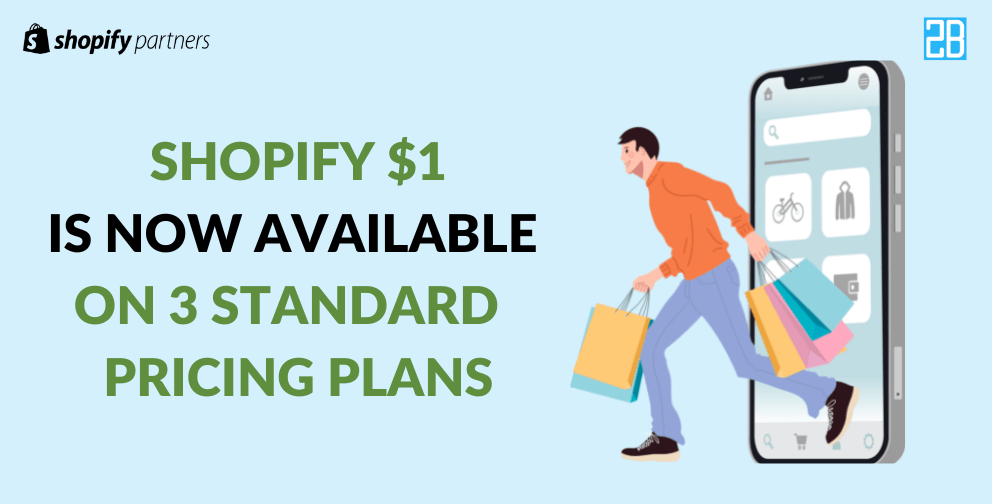 At the end of last year, Shopify launched a special deal with a 3-day free trial and new policy named Shopify $1/month for 3 months paid trial on the Basic plan, which has enabled thousands of merchants to join Shopify.  Hence, a varying number of merchants took attendance, exploration, and commitment to Shopify through low-cost, lengthy trial experience on the Basic plan.
On  March 6th, 2023, Shopify will promote a totally new update for Shopify  $1/month for the first 3 months of paid trial, which will be available on all three of Shopify's standard plans. That means the merchants who start selling online for the first time on Shopify can choose one of 3 three plans with only $1 per month in 90 days. 
In a nutshell, this is the best deal ever of Shopify if you are a beginner or merchant who wants to start a new store or scale up your business. On top of that, you can utilize this new policy for all 3 standard plans to pick the most suitable solution for your business. 
Conclusion
Shopify offers a variety of pricing plans to suit different business needs. Whether you are a small business owner or a large enterprise, Shopify has a plan that can meet your needs. Additionally, that can be more effortless for you to choose the concordant plan with the new Shopify $1 policy. 
Don't hesitate to contact us if you have any questions about Shopify cause we are always available 24/7 to support you and we're also Shopify Experts with over 9 years of experience in development and consultant for merchants, which want to choose Shopify as an eCommerce solution.