The spooky Halloween, which occurs on the 31st of October each year, is quickly approaching. Halloween, Jack-O-Lanterns, and candy bags are set to cause a major flurry of excitement among everyone. But for e-commerce business owners, it's time to start feeling both extremely anxious and happy at the same time because that's when the year's largest sales peak officially begins. 
Halloween e-commerce remarkable numbers 
More than $82 is spent by each shopper both in-person and online on Halloween-related goods. 
Halloween e-commerce spending is anticipated to hit $8.4 billion, up from $6.9 billion last year and an all-time high, per the National Retail Federation's annual study. An estimated $3.1 billion will be spent on costumes, including outfits for people, kids, and pets, $2.4 billion will be spent on decorations, and $390 million will be spent on cards.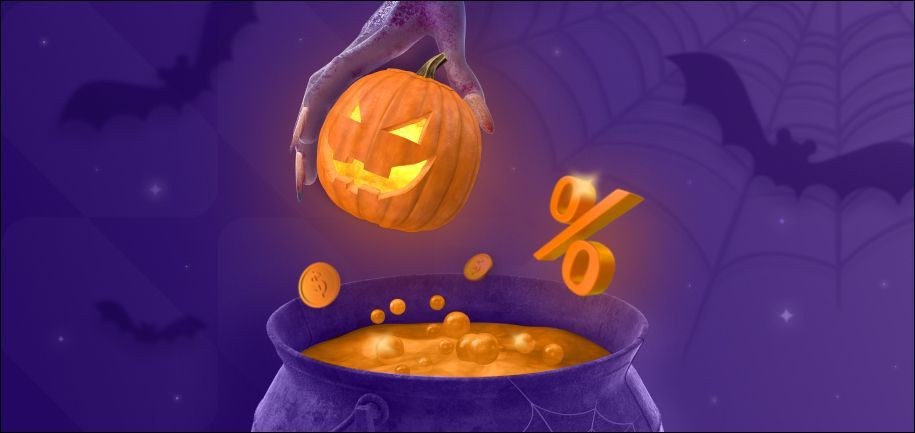 Halloween Sales
In some sectors, consumer spending of Halloween e-commerce even outpaces Valentine's Day, which is a major holiday on the retail calendar. In the NRF's Halloween e-commerce sales study, nearly 70% of consumers said they intended to celebrate the holiday in some way, including parties, trick-or-treating, dressing up, and decorating. In a similar Valentine's Day survey, just over 54% of the customers questioned stated they would celebrate and spend on the occasion. Even the cost of Halloween candy, which is expected to reach a record high of $2.5 billion, exceeds the cost of Valentine's Day candy, which peaked at $1.6 billion this year.
Is it too late to join the Halloween e-commerce sales action at this point? No, is the response. While spending is strongest in September and the first half of October, 22% of the market is made up of late buyers, which means that by mid- to late-October, close to $2 billion is still unclaimed. What then should a retailer do? It's frighteningly easy to interact with customers, create a personalized experience, and boost Halloween e-commerce sales with a versatile e-commerce platform in place. 
How to make your Halloween e-commerce sales outstanding?
Personalized advertisements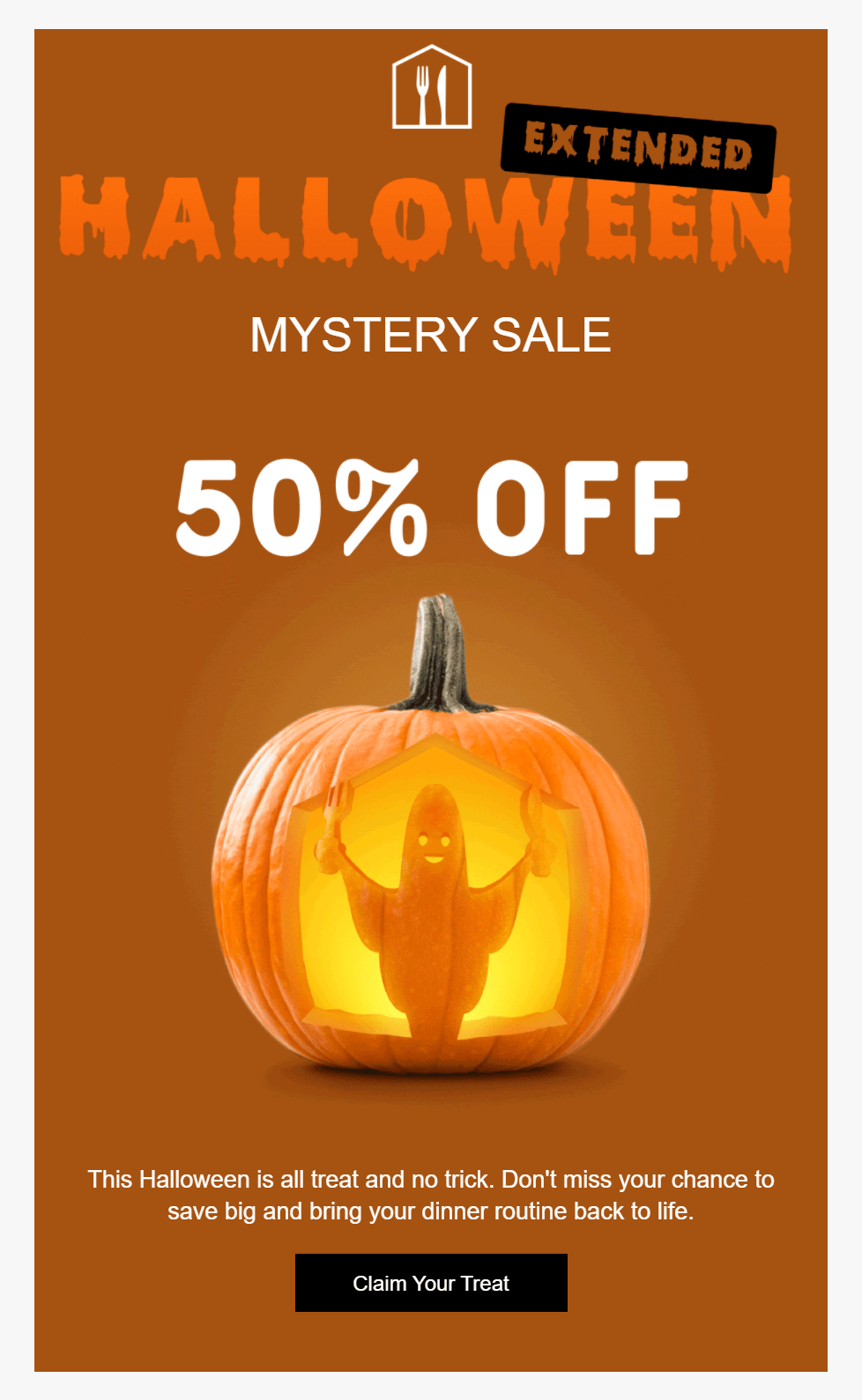 Personalized advertisement
Utilize the digital marketing skills of your platform to boost Halloween e-commerce sales. Launch specialized Halloween e-commerce sales campaigns. If you have the inventory to sustain a spike in sales, review statistics from this time last year to determine what sold and tailor a special emphasizing top-sellers. Consider laggards in contrast. Do you have any ideas for a Halloween-themed campaign to help low-selling items move more quickly? The intelligence driving today's digital commerce technologies gives corporate users more control. You can run the Halloween e-commerce sales campaign faster and easier with their support.
Cauldron, Candy and Costumes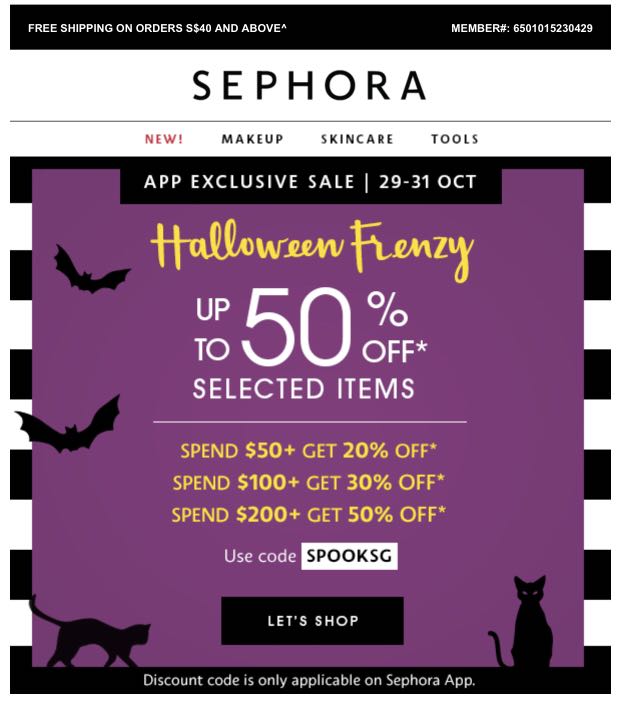 Sephora Halloween Sales
It's no secret that consumers look for products and ideas online before entering establishments. Therefore, if you have Halloween-related inventory, other than just costumes and sweets, use the features built into your e-commerce platform to create Halloween categories, promotions, and pages that are relevant to the occasion and boost Halloween e-commerce sales. 
What fantastic costume is complete without a little makeup? Think of Sephora and MAC Cosmetics. Finding "Halloween" in a search returns a variety of "must haves" for an original outfit. Similar to DSW, Main Depot offers a Halloween shopping experience and sends theme-related content to the home page. DSW offers theme-inspired shoes and socks along with a fall sale.
No Tricks Just Treats
No tricks just treats
Utilize social media to promote Halloween e-commerce sales. Social media, particularly Pinterest, which has increased by 133% over the last four years, is cited by the NRF as the influencer with the fastest increasing audience when it comes to costume inspiration. To find Pinners interested in a particular piece of content, use Promoted Pins on Pinterest's new engagement targeting features. Utilize the holiday's whimsical, highly visual nature to produce engaging content.
The bottom line is that, by utilizing features built within your platform in his Halloween e-commerce, it might not be horribly challenging to take advantage of Halloween's popularity and to increase Halloween expenditure.