E-commerce companies invest a lot of time and money into getting people to their websites and keeping them there by offering them fantastic products. But if you want to encourage customers to finish the checkout process, there are a lot more things you need to pay attention to. 
A customer might adore your company. They might have discovered the best item for their requirements. However, the likelihood of them departing the cart is significant unless the buying experience and checkout are easy and seamless. 
The Baymard Institute reports that the average cart abandonment rate in e-commerce is close to 70%, with close to 20% of customers claiming a "too lengthy/complicated e-commerce checkout procedure" as the primary cause. 
Because of this, improving your e-commerce checkout is essential for converting browsers into customers.
1. Mobile-friendly Optimization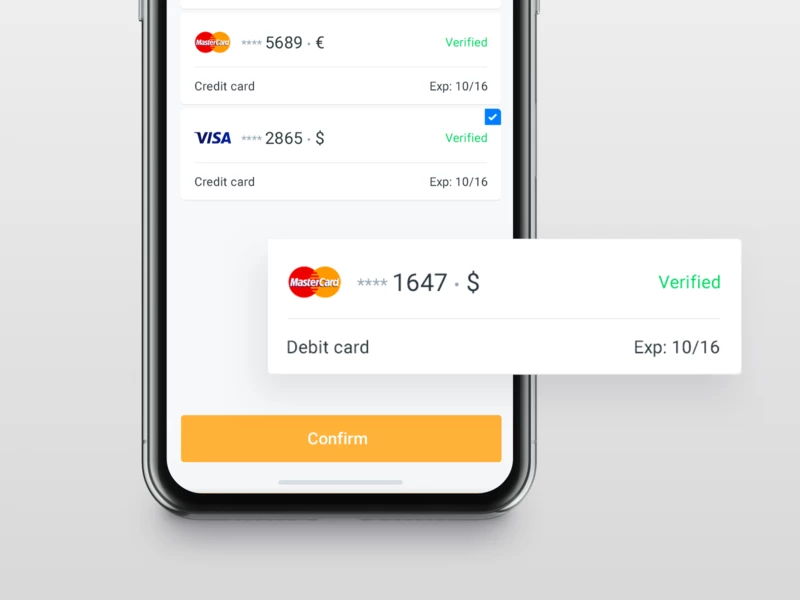 Mobile friendly checkout
Mobile-friendliness should be incorporated into the design of any contemporary e-commerce checkout page (and maybe even have the mobile version prioritized over desktop). Incorporate call-to-actions into your layout, but make sure the design is responsive. More than 50% of internet purchases are now made on a mobile device. You will lose out on a sizable portion of your consumer base if you don't optimize for mobile.
2. Guest Checkout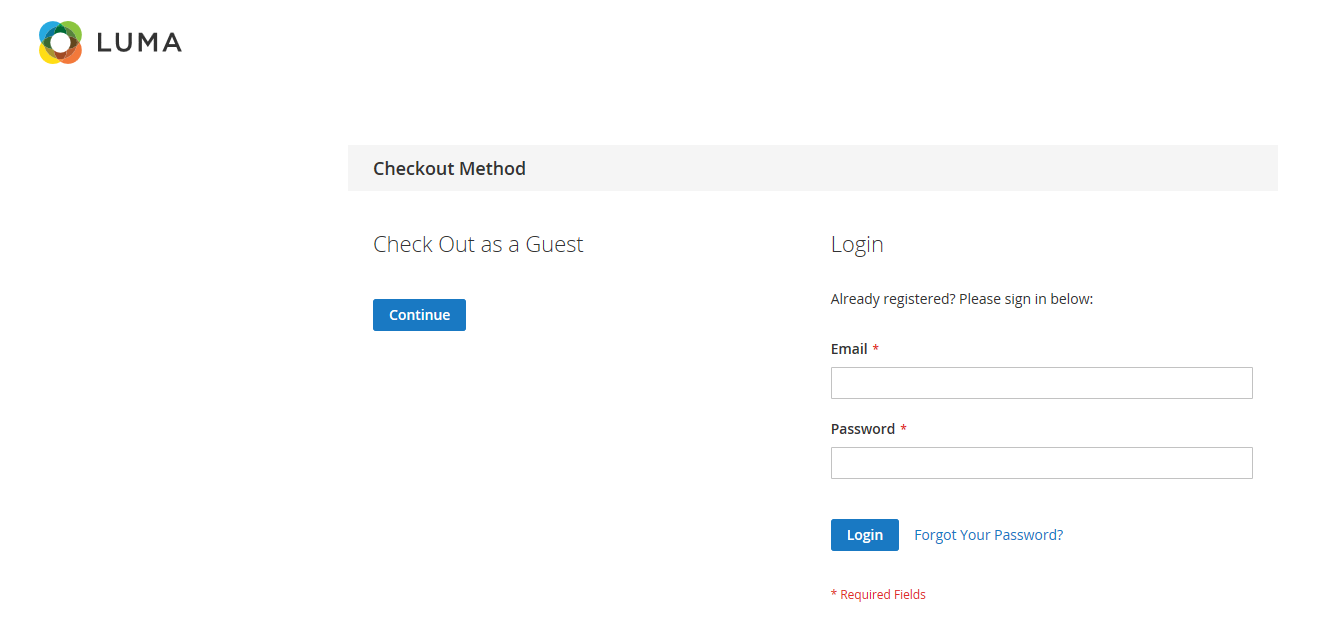 Checkout as a guest
You want to encourage retention and attract repeat business, but you don't want to turn away one-time customers. Make sure a guest e-commerce checkout is offered to customers so that guests may purchase conveniently. Give first-time consumers the option to enter their email and finish making their purchase. Even if some customers realize the benefit of making a one-time payment, not all of them desire to sign up for a subscription. Never put a barrier in the way of someone who wants to buy your product; always make it simple for them. You can get in touch with these one-time buyers after the transaction as well.
3. Forget the Unnecessary information
Limit yourself to your absolute needs. Collect only the consumer data that is absolutely necessary, optimizing the process by getting rid of any extra processes. Get a customer's email as soon as you can; it's the sole piece of information you absolutely must have in order to follow up with them and try to sell them something.
4. Clean Checkout Button Design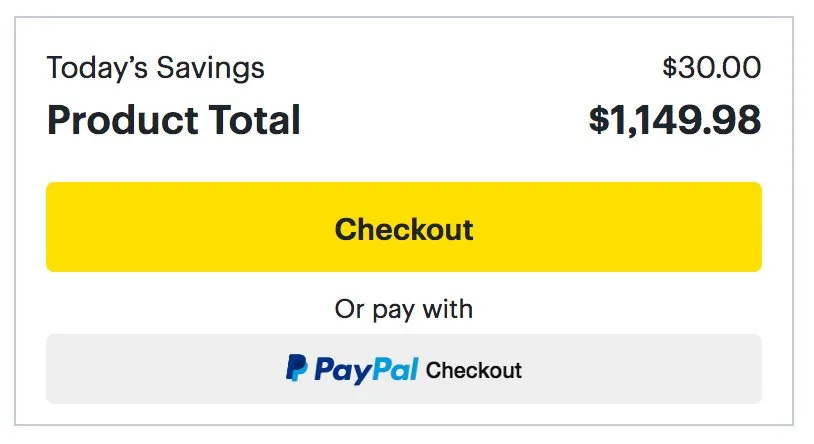 Clean checkout button
To attract customers to the payment stage, you must expend a lot of time and money. When they are ready to buy, you should take every step in your power to encourage conversion. Get rid of any extraneous distractions, including the header and footer, navigation buttons, additional goods to buy, and anything else that can divert the customer from finishing their purchase.
5. Cost And Fee Removal
Customers depart because of additional expenditures, or at the very least they question the worth of their purchase. When a consumer is ready to buy, you don't want them to choose this choice because it will raise the rate at which they quit the e-commerce checkout process. Give as much information up front as you can, such as a subtotal, any applicable taxes, shipping costs, and the final order total.
6. Progress Indicators To Guide Checkout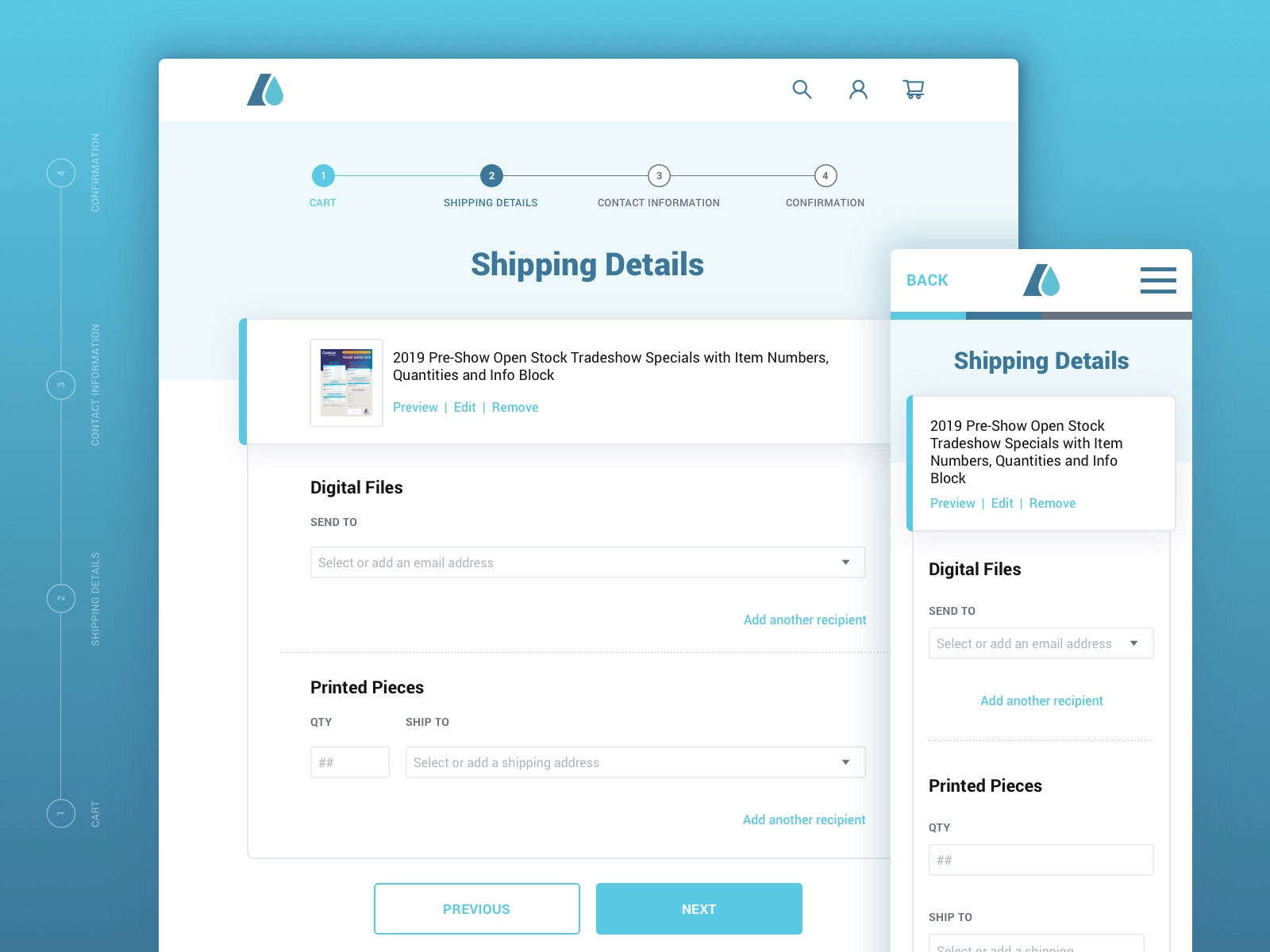 Use Progress Indicators
Integrating a progress indicator is always beneficial, regardless of whether your platform uses a one-page, multi-page, or multi-step e-commerce checkout procedure. Customers can use this to keep track of where they are in the process, review the steps they have already finished, and see the actions that are still ahead of them. Customers may generally get a sense of how long the payment procedure will take.
7. Sign-In Feature
Allow users to connect with a social account to register or join up for your service. Through the use of their social account, users can link with an existing account to authenticate their identity. This eliminates the need for customers to register for an account and enter information.
8. Auto-Save Cart
Give users the option to store their cart contents, or simply save their products when they exit the site. Customers save time by not having to browse and find the things they want to buy and can just go back to the e-commerce checkout. This makes it more likely that they'll come back and complete what they started.
9. Easy To Apply Discount And Promo Codes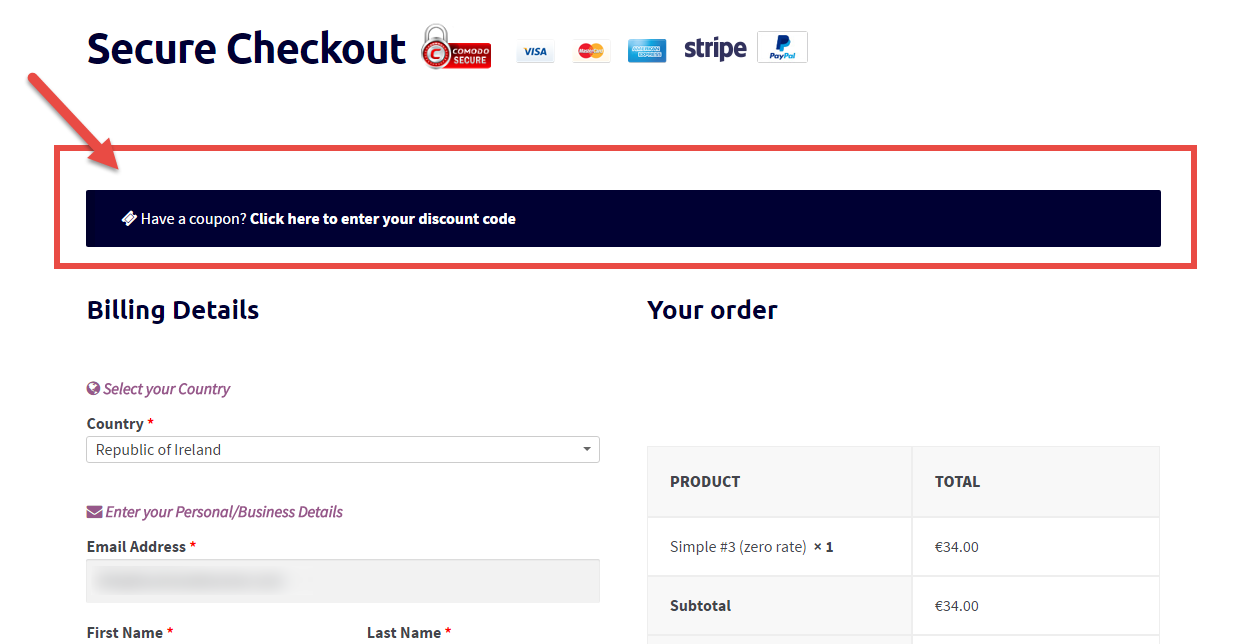 Easy to use coupon
Make it simple for customers to enter discount or promotion codes on your e-commerce checkout page if you provide those to them. It's important to use caution when handling this because you don't want it to be too obvious to users without a code. Customers who see a field for entering a discount code but do not have one may look online for one.
10. Post-Payment Order Confirmation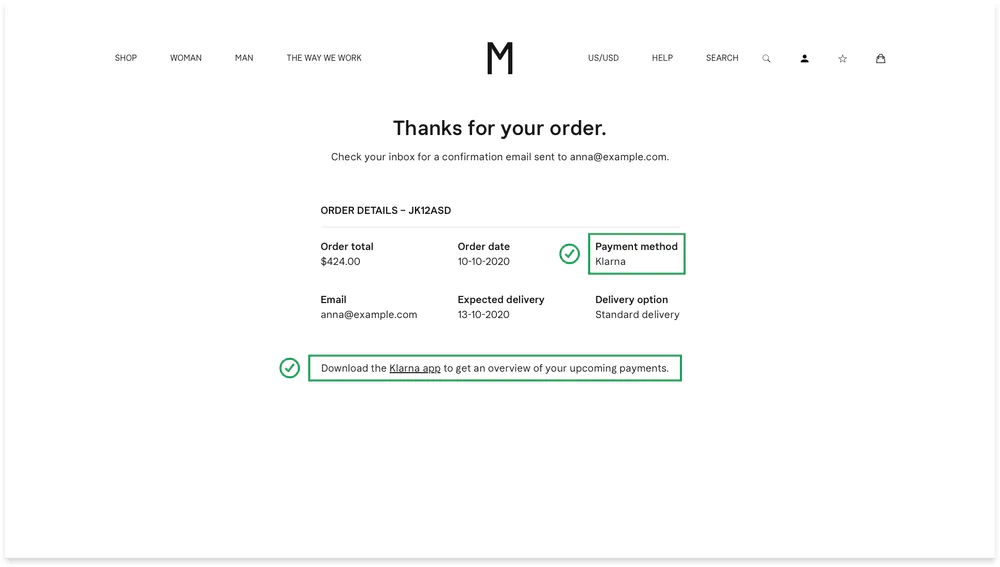 Post-payment order confirmation
Send a post-purchase order notification and thank you after a consumer completes a transaction. This will include a summary of the order's details, including the subtotal, additional expenses (shipping and taxes), item count, item details, final total, delivery estimates, and any other information the customer might require. Email is the most typical method used to provide this. This is also a terrific opportunity to express gratitude for them choosing your service. Give visitors and first-time purchases the choice to register.
11. SSL Certificate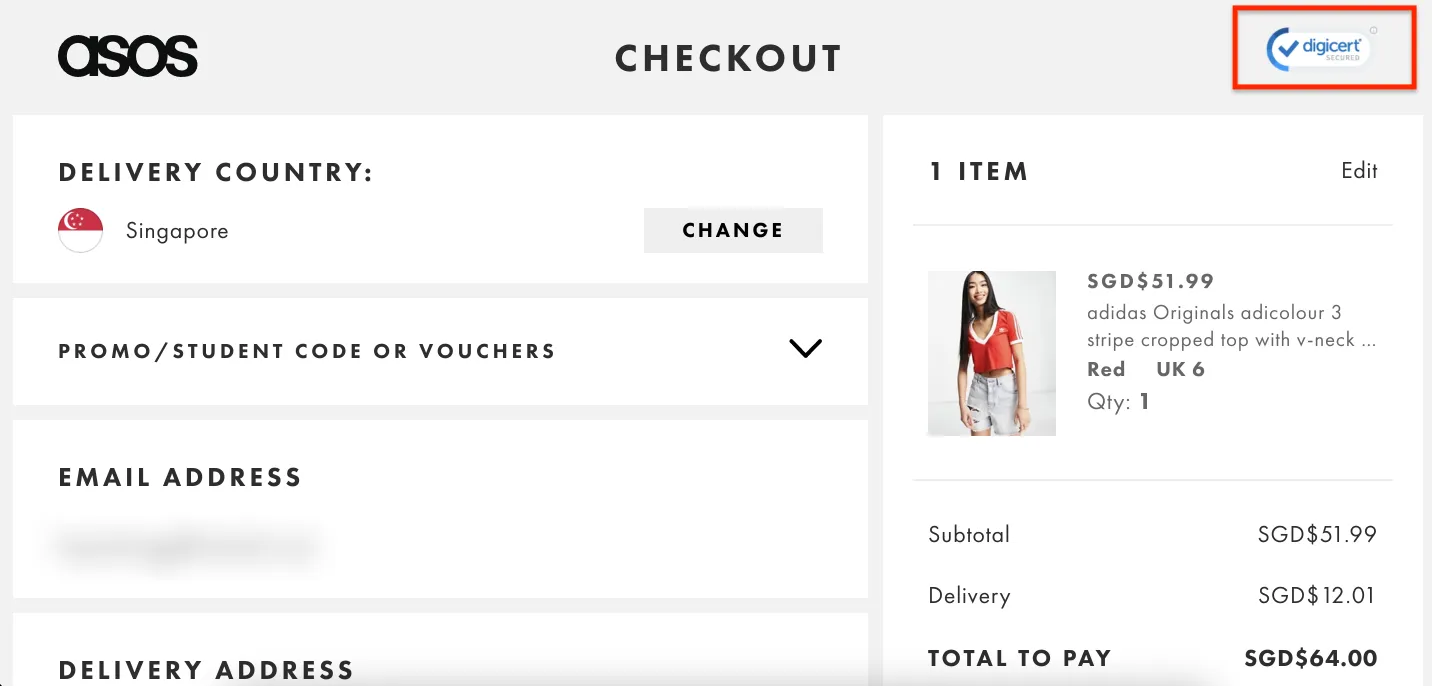 Trust Badge
From the time customers reach a brand's website, trust must be established. But clients won't buy from you if they don't think your e-commerce checkout process is secure and safe. 
The pandemic has made customers more dependent than ever on e-commerce, which has raised concerns about online buying security. Consumers place a high value on security, and 83 percent stated they would be more willing to shop on websites that mentioned or displayed their efforts to avoid fraud, according to a ClearSale poll. To increase customer confidence, it's crucial to improve your e-commerce checkout with an SSL certificate and security badges from reputable firms. 
A variety of tactics created to enhance the shopping experience and simplify life for your customers culminate in e-commerce checkout optimization. It's crucial to realize that e-commerce checkout optimization won't happen overnight. To identify the ideal formula that lowers cart abandonment, extensive A/B testing and experimentation are required. But with enough effort, you can increase your conversion rate over time and give your company options for healthy expansion.