Many e-commerce businesses may not consider product badging or realize how much focus they may place on it to boost sales. You should, however, consider product badges for your website! Badging generates between $50 and $100 million in income every year, according to Monetate, a cloud-based startup that delivers in-the-moment personalization software. When comparing websites that employ badges to those that do not, this corresponds to a 55% increase in conversion rates. This article is for the Shopify merchants who want to polish their store in the sale season as well as improve conversions and branding.
Here are a few examples of product badges and how they might help you sell more:
Social Proof: Everyone Else Is Buying It!
Customers are more likely to say yes when they see what other customers like them are buying. Product badges such as Best Seller, Staff Pick, and even Out of Stock provide social evidence to your consumers.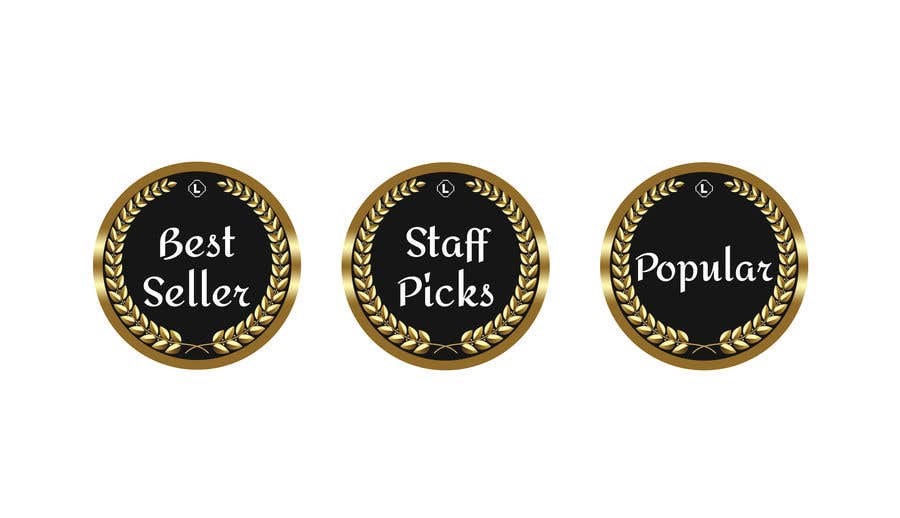 Badges create Social Proof
Product labels can help you to say:
This item was purchased by individuals just like them;

Recommended by staff or editors;

This product is preferred by many people so much that you cannot keep it in stock
Scarcity is evoked by badges like Almost Gone and Low Inventory. Your customers' FOMO is tapped into with these badges (fear of missing out).
Urgency - Get It Before It's Gone
Deal of The Day and Limited Edition badges instill a feeling of urgency in buyers by indicating that they only have a certain amount of time to make a purchase. This is either because the deal is coming to an end or because the item will be gone shortly.
Discounts and Sales 
Sale Badges
Deals and promotion badges encourage buyers to take advantage of the savings before they expire. Clearance, DoorBuster, Bulk Discount, and Bundle & Save product labels draw attention to your special offers and promotions. There's also the all-time favorite badge — Free Shipping!
Super Watermarks ‑ Badges – a dedicated Shopify plugin to help you add the badges to their products
If you want to add attractive badges for product images, the Super Watermarks ‑ Badges plugin is a great option. This plugin is completely coding-free, allowing users to use many badges without any specific coding skill. You may also use image-based badges if you wish.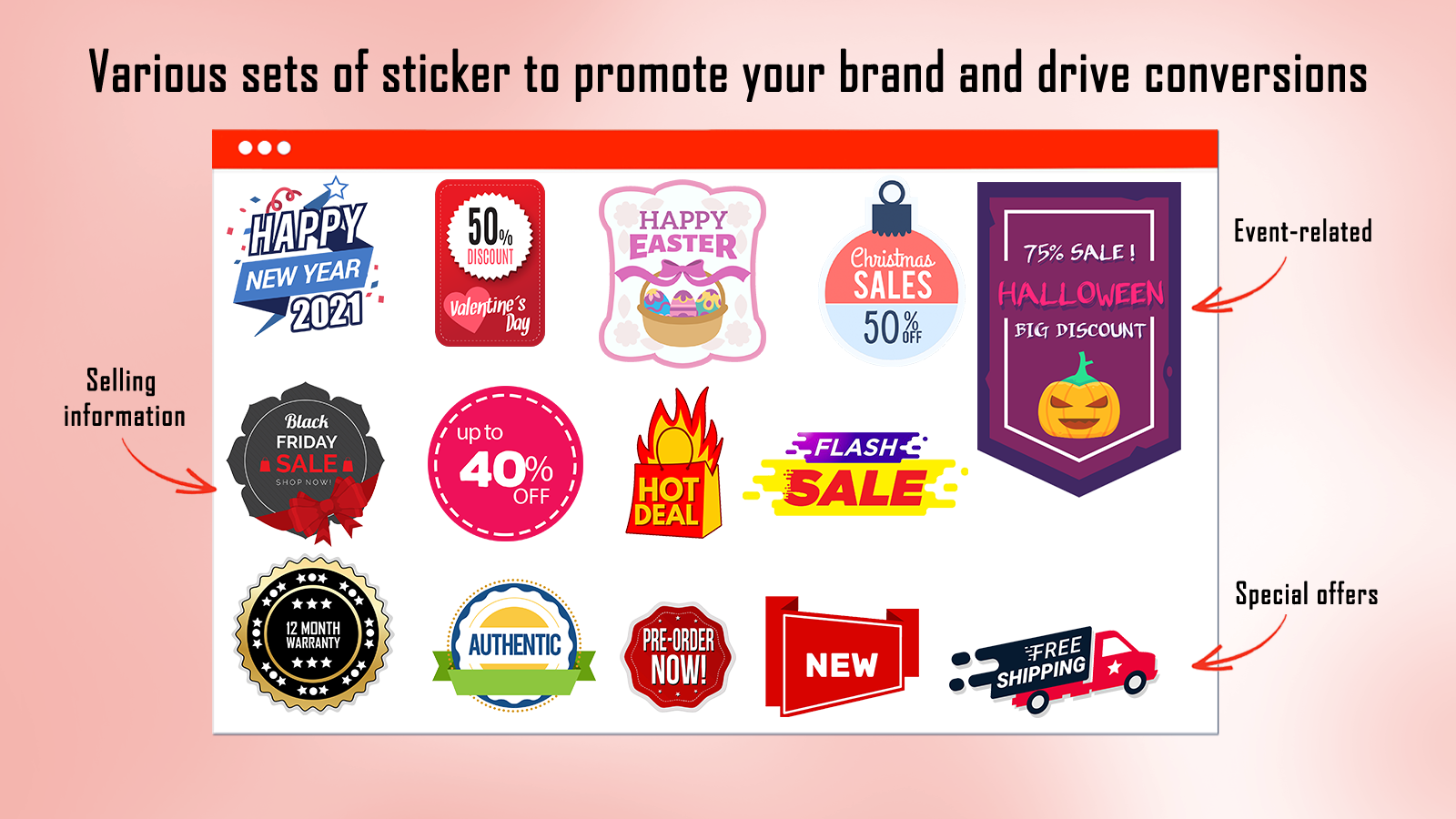 Many choices of Watermarks and Badges
Super Watermarks – Badges built-in label/badge library has over 3,000 types updated regularly and divided into categories like Sales, Discounts, Valentine Badges, Shipping Stickers, Out of Stock, Boxing Days, Cyber Monday, Black Friday, X-mas Days, Few Left Badges, Halloween Stickers, Trending Badges, Authentic Badges, and so on to polish your store and get more attention!
Benefit from Super Watermarks – Badges:
To increase conversions, add badges to illustrate product features, social proof, limited availability, offers, bestsellers, and new arrivals.

Set up multiple badge displays and run multiple campaigns for multiple products in bulk.

User-friendly, regularly updated and strong support from developers.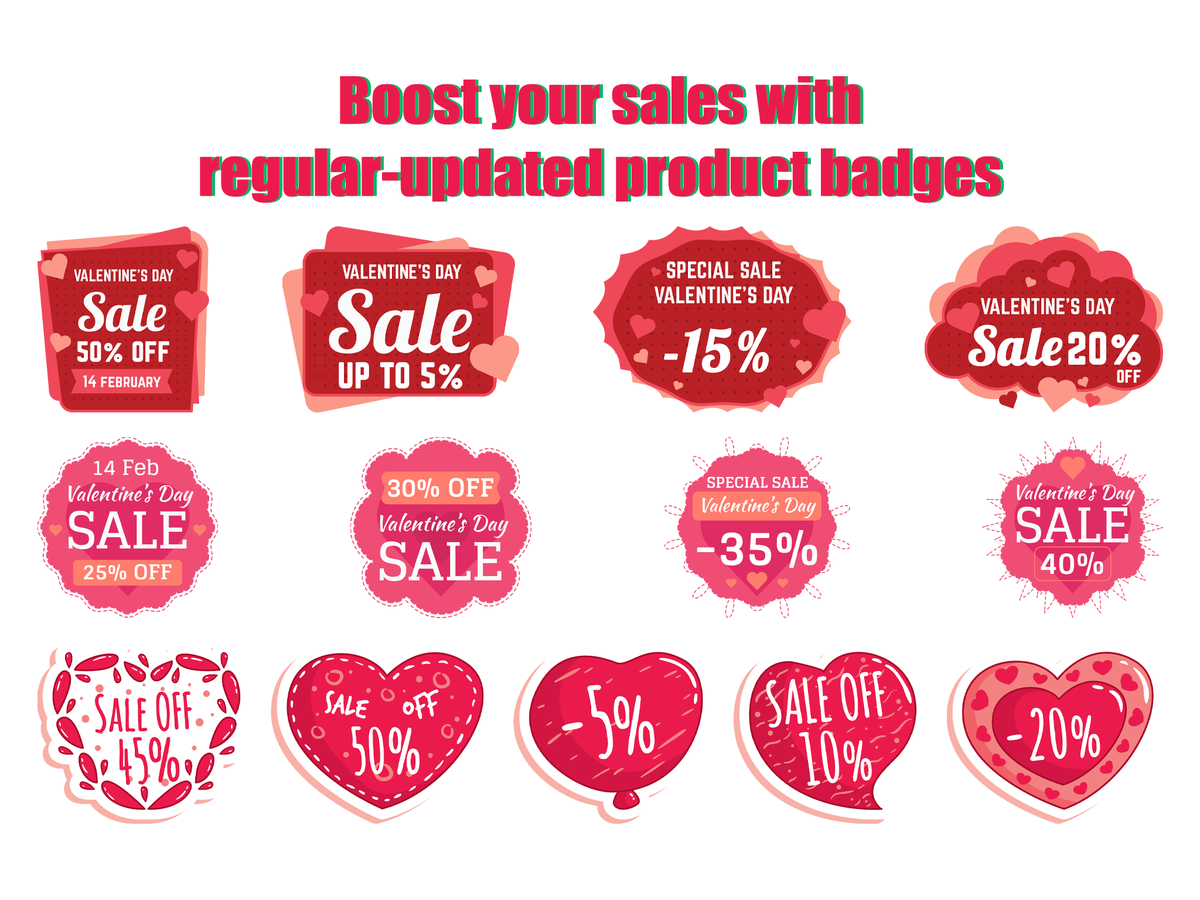 Regular updated product badges
While the Super Watermarks - Badges plugin is free, you can upgrade to the premium version of (available for $6.99 or $14,99 per month) to gain access to features like the ability to automatically assign badges to items that belong in the recent, on sale, and featured categories, use category badges (allowing you to create a badge for each product category), create and add advanced badges for unlimited products and campaigns, and much more.
A solid product badge strategy may help your shop boost sales and conversions. Product badges can assist you in increasing sales from existing traffic and promotions. You may tap into your customers' psychological triggers by combining badges with social proof, scarcity, and urgency messaging, which can lead to increased purchases. The beauty of employing product badges or labels is that you can get started right immediately, resulting in least effort for maximum benefit. Stop losing sales by adding some product badges to your business!