Even though there are a lot of e-commerce website builders to choose from, Shopify Plus is far and away the most feature-rich enterprise-level e-commerce platform available. 
What are the other choices that e-commerce retailers can consider except for Shopify Plus?
But keep in mind that Shopify not only has the fastest rate of e-commerce platform growth but also leads all other online store builders in market share!
Shopify Plus vs Shopify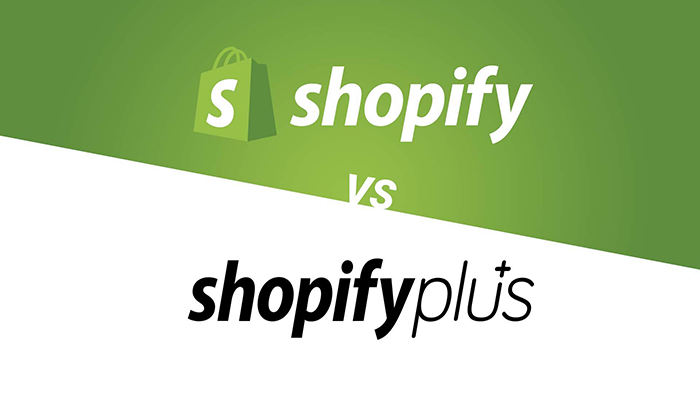 Shopify Plus vs Shopify
It's important to compare Shopify Plus to the standard Shopify plans, particularly Shopify Advanced, the highest plan available before Shopify Plus, before moving on to other e-commerce platforms.
Shopify Advanced is a robust package with lots of features that costs $235 less per month than Shopify Plus. However, there are several things that Shopify Plus can accomplish that Advanced Shopify just cannot: 
Completely personalize your checkout page. 

Dedicated customer service team for unique solutions 

Ten thousand transactions per second 
Actually, Shopify Plus has more features that are exclusive to it (or that you need to pay extra for on the other plans). The complete list is available above.
The individualized support you'll receive with Shopify Plus, though, is the key distinction between it and Shopify Advanced. Utilizing the additional integration options and performance of Shopify Plus, your dedicated launch manager, merchant success manager, and solutions engineer will collaborate with you to develop a wholly unique e-commerce site. 
It would be wise to upgrade to Shopify Plus if you are currently using the Shopify Advanced plan and your traffic is beginning to approach corporate levels (millions of visitors). 
See here for a complete evaluation of Shopify. A 14-day free trial of any standard Shopify package is also available.
Shopify Plus vs Magento Commerce (now Adobe Commerce) 
Based on free, open-source software, Magento is a reputable self-hosted e-commerce platform. But Adobe Commerce, a premium version, is also available (previously called Magento Commerce or Magento Enterprise).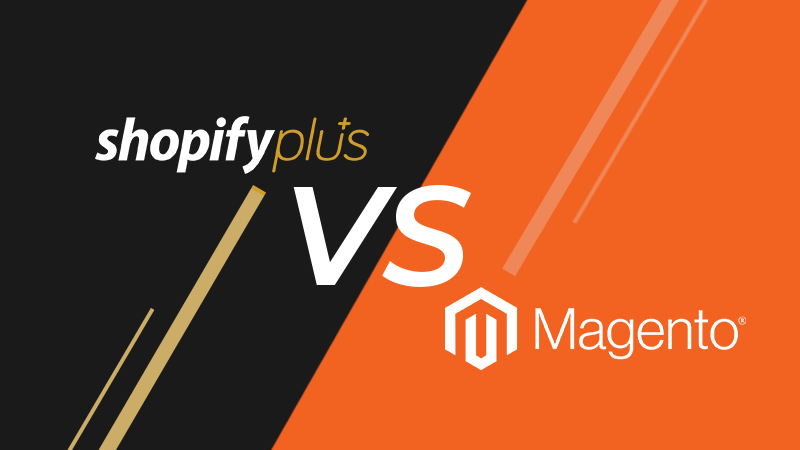 Shopify Plus vs Magento Commerce
The annual cost of Adobe Commerce is between $22,000 and $125,000, almost the same as Shopify Plus. However, Adobe Commerce continues to be self-hosted. So, hosting and maintenance will cost you more.
There is a version that runs in the cloud called (unsurprisingly) Adobe Commerce Cloud, but the cost ranges from $40,000 to $190,000 annually, making it substantially more expensive than Shopify Plus, which runs in the cloud for less money. 
The company has made numerous modifications and is still working to position Magento as a more direct rival to Shopify since Adobe acquired the platform in 2018. However, Shopify continues to be easier to use and learn than Magento. 
There will be substantially higher development, management, and integration overheads than with Shopify because even the Adobe Commerce Cloud is more of a PaaS than a SaaS. 
Compared to Shopify Plus, Magento might offer more flexibility and adaptability. Therefore, Magento might be a better e-commerce solution for extremely large enterprises with complex needs. However, Shopify Plus is typically going to be a more affordable and convenient solution for your online business.
Shopify Plus vs. BigCommerce Enterprise 
BigCommerce and Shopify are fairly comparable, and I've already produced a detailed comparison of the two platforms. We will contrast the two options here. However, BigCommerce also provides an enterprise-level package called BigCommerce Enterprise, which directly competes with Shopify Plus.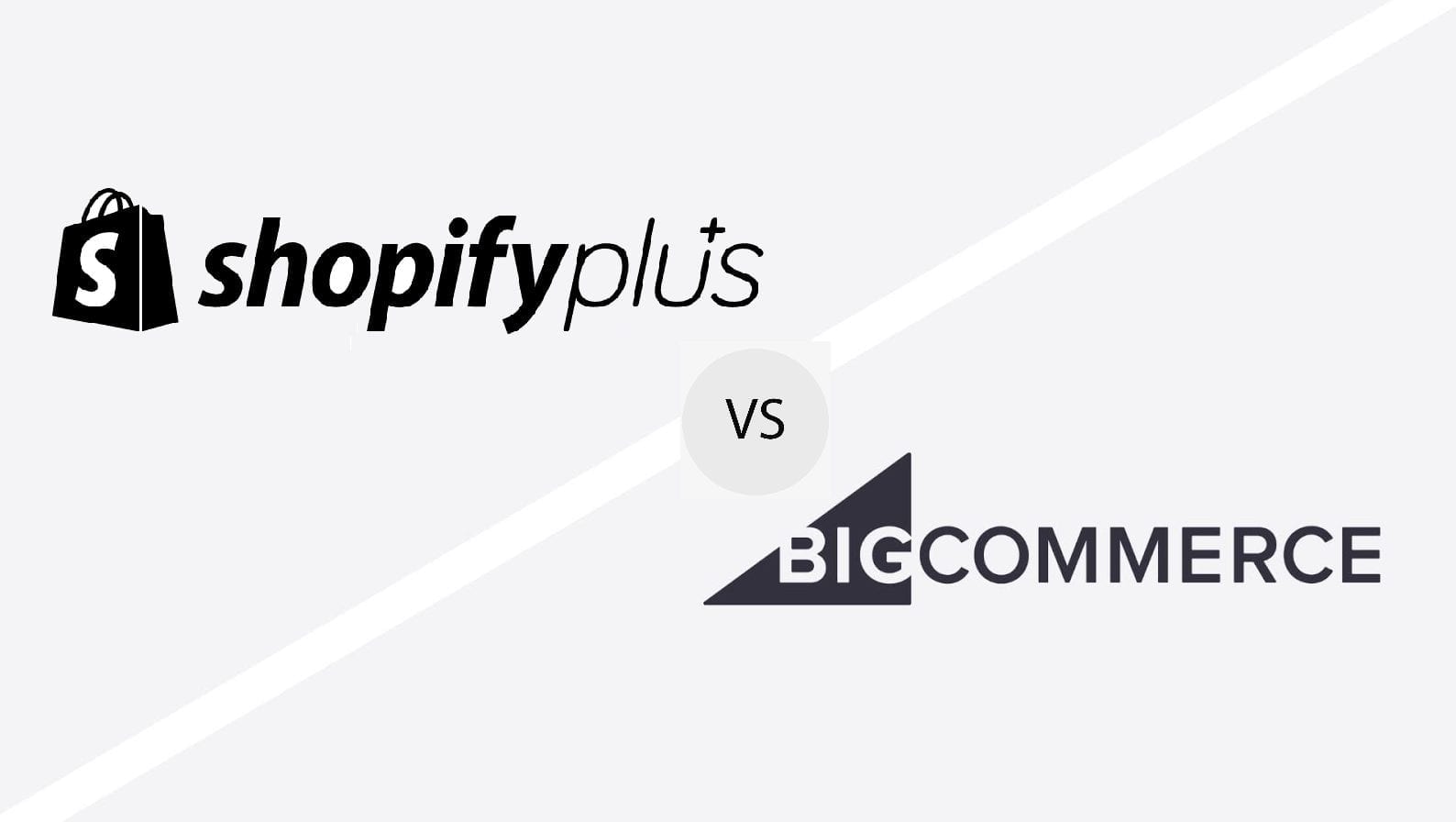 Shopify Plus vs. BigCommerce Enterprise
Because the cost of both fluctuates, it is challenging to draw any meaningful comparisons in terms of pricing. However, BigCommerce will occasionally be less expensive than Shopify because BigCommerce Enterprise starts at $1,000 per month while Shopify starts at $2,000 per month.
The additional functionality that BigCommerce Enterprise gives (above the regular BigCommerce plans) is fairly comparable to the additional capabilities that Shopify Plus offers in terms of features (over the standard Shopify plans). 
Therefore, you get additional API calls, priority customer support, customer success management, multiple stores, wholesale/B2B functionality, and other features with both BigCommerce Enterprise and Shopify Plus. 
All BigCommerce subscriptions really offer some of the capabilities that are offered in Shopify Plus alone, such as unlimited staff accounts! Additionally, BigCommerce does not have any of the restrictions that are present in Shopify Plus, such as the number of product versions.
On the other side, Shopify offers a significantly bigger selection of apps that can be integrated with your Shopify store, better automation tools, and much superior offline point of sale (POS) functionalities. 
It will essentially come down to which platform better suits your individual needs. Beyond only your online business, Shopify has more to offer. While BigCommerce has greater features compared to your online store's restrictions.
Final words
We have examined how Shopify Plus stacks up against some of its main rivals. The question is, though, is Shopify Plus the ideal enterprise e-commerce platform for your online store? That depends, I guess!