Managing your online shop as a Shopify store owner may be challenging. There's a wealth of information about your store's performance that may help you make improvements. And Super Reports – Data Export can help you sort through all of that data to figure out how your customers get to your site, what they're looking for, how much they're spending, and more.
Super Reports are a collection of useful data that you can use to optimize the operation of your business. Each time a consumer interacts with your store, Shopify collects and presents them to you. Shopify Super Reports may appear to be a spreadsheet with charts and figures at first sight, but there is more to them than meets the eye.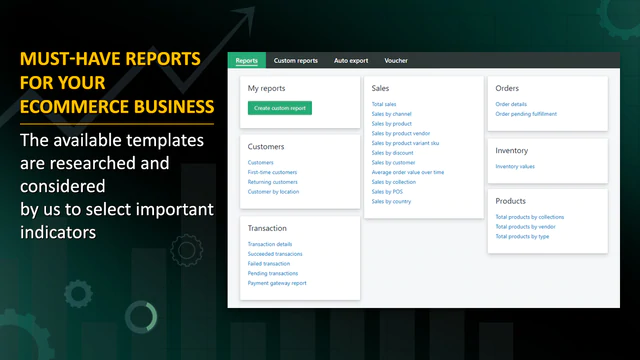 Benefit of Super Reports
The action-driven approach to business analysis is used in Super Reports. Super Reports – Data Export gives you a comprehensive view of your business and provides you with data that will assist you in making business decisions that will improve the operation of your store.
Sales Report: Analyze and predict sales by product, order, region, and method of payment. Refund reports by product or reason may help you improve your sales funnel, as can impact analyses of discounts by target, location, and trend report.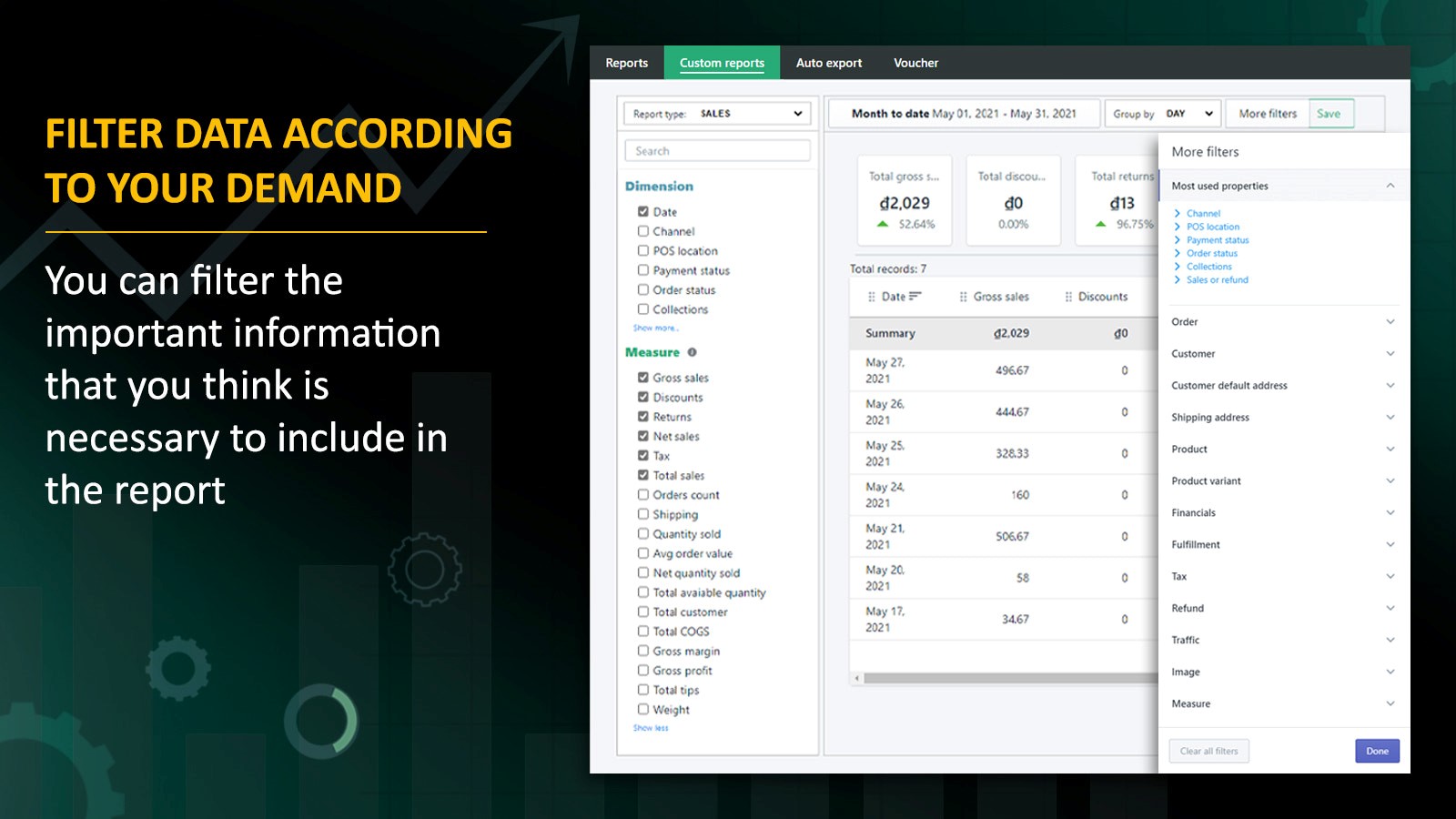 Filter data according to your request
Order Insights: Learn about order-to-sale conversions, average order value, and fulfillment rates. Analyze orders from a variety of sources, including transactions, status, and devices. Orders by billing location and discount data are used to calculate the contribution to sales.

Inventory optimization: To have a better understanding of customer preferences, look at the best- and worst-selling items. To optimize your inventory, go further into the data to look at stock on hand, low stock goods, and more.

Customer Intelligence: With first-time vs. returning customer information, you can fine-tune your customer approach. Analyze customers across locations, tags, and orders to increase marketing ROI. The customer analysis report assists you in better understanding your customers' behavior by detecting who is active, what they are buying, and what can entice them to buy again. Such statistics will reveal which users are inactive, allowing you to reach out to them over time with targeted advertising.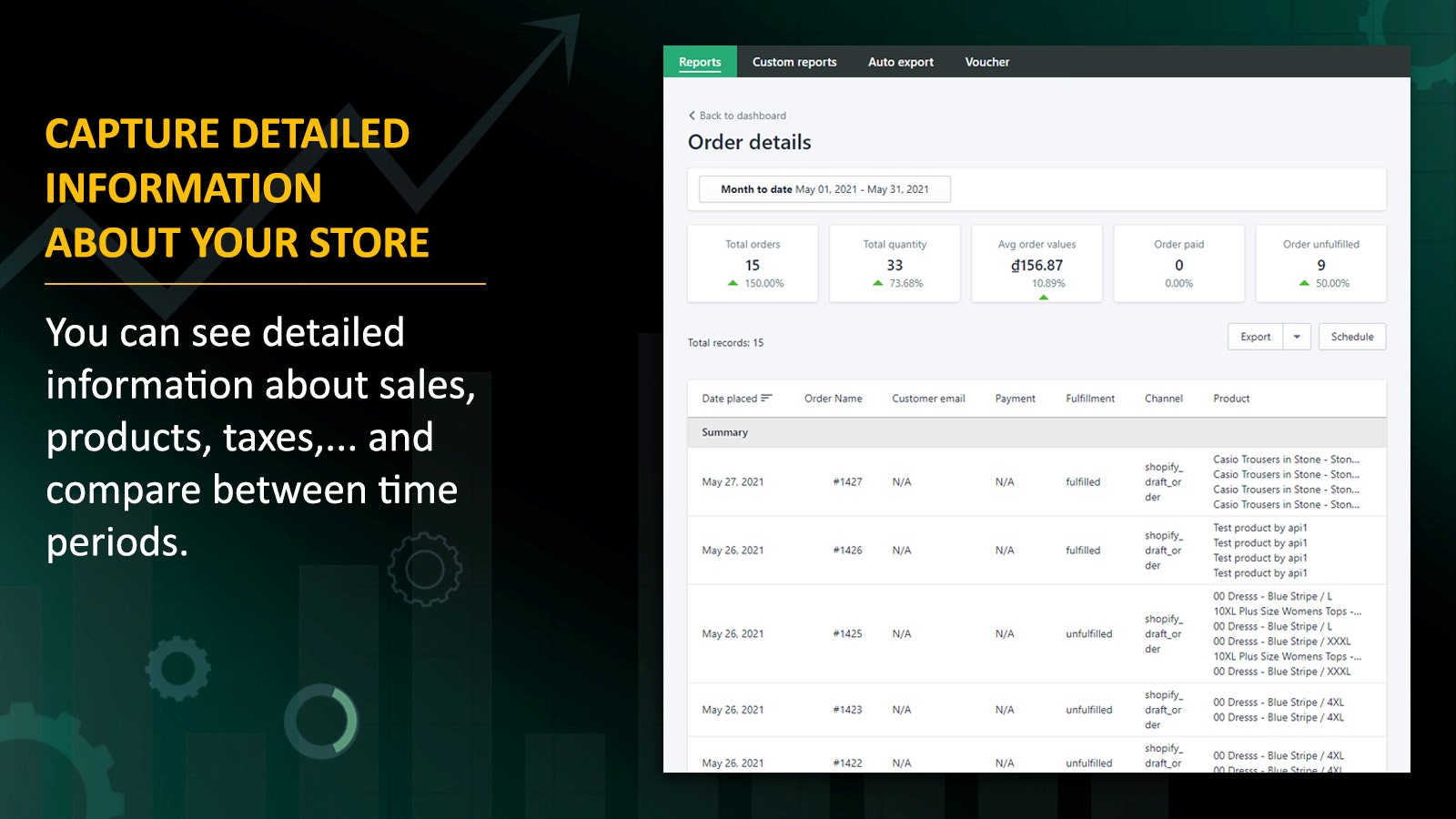 Detailed information of your store
Shipment: Using shipment funnels, you may improve dispatches and delivery. Analyze delivery costs and hours by region to efficiently arrange shipments. Status and service reports can be used to track progress. The program is totally automated, constantly updating data from your business and analyzing it to provide real-time reports, as well as delivering email notifications of crucial store indications. makes work management and tracking considerably easier
Furthermore, with the merchant-friendly interface, Super Reports visually evaluate and create your own Shopify reports and dashboards. 50+ templates, including geo-maps, heat maps, funnels, histograms, widgets, pivot tables, tabular views, and more, will help you see your data. Ad-hoc data analysis on the fly is made possible through immersive interactions such as contextual filtering, dynamic drill-down, and seeing underlying data.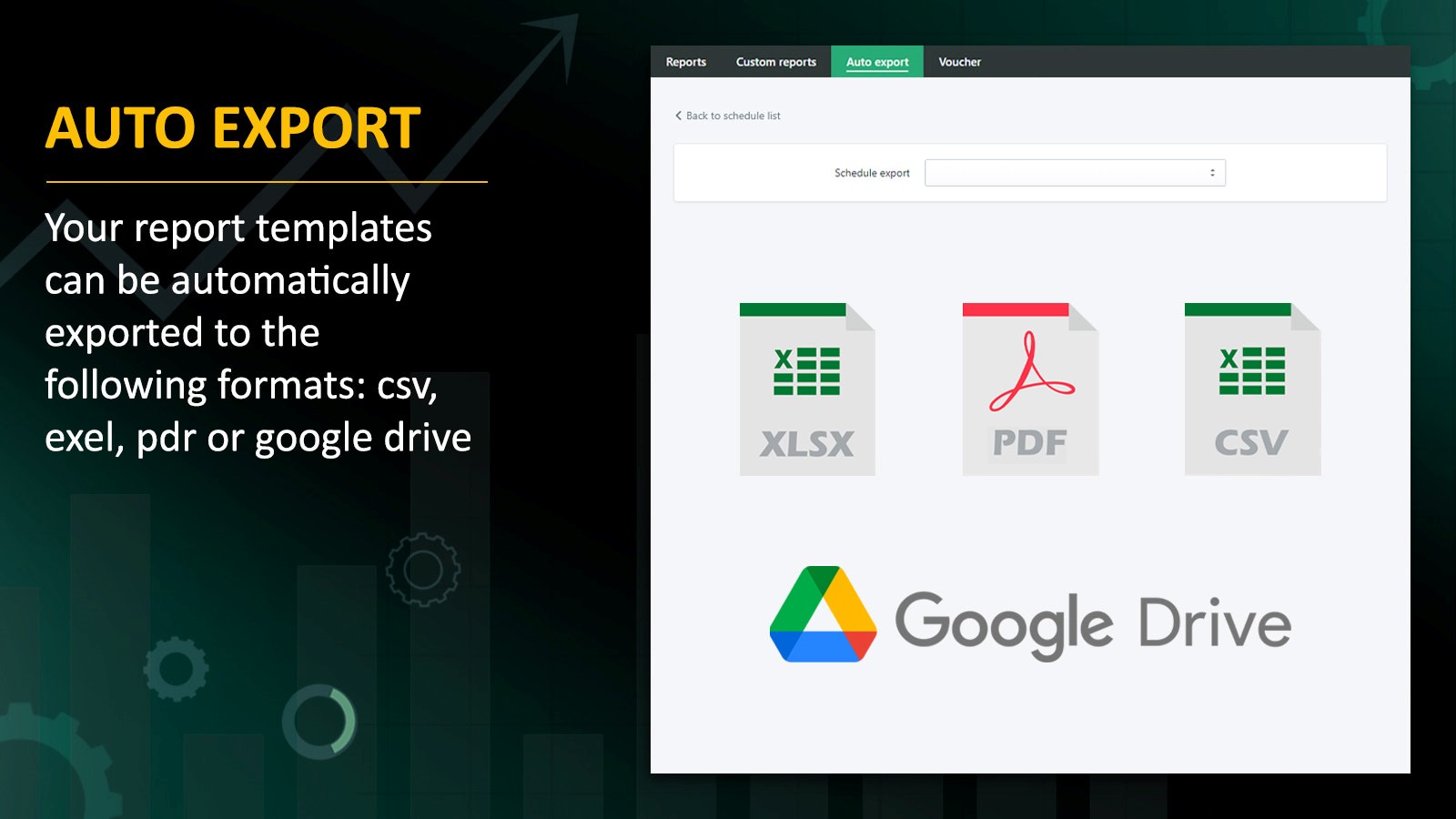 Auto Export
Super Reports – Auto Export is a set of comprehensive analytics features to help you plan and expand your Shopify shop successfully. It delivers critical Shopify data and dashboards as scheduled emails to your inbox—no need to log in to keep track of your KPIs. You can export data into CSV, Excel or even Google Drive format.
The usage of Shopify business reports will be determined by the company's goals. You can find plenty of other reports apps with distinct sets of capabilities, some of which overlap, you'll need to go further into each to find the ones that best meet your company needs. We believe that with the above functional offering, why don't try to use Super Reports – Data Export in 7 days for free to see how much it can do for your Shopify store?