You're a busy entrepreneur running an ecommerce company, and finding the finest Shopify customer care applications to utilize to enhance your Shopify site takes time. As a result, we took the initiative to perform the effort for you. The applications may assist you in providing excellent customer service and even lead to repeat business and the creation of brand advocates. To know better which one can work for your store, let's find out what are the profitable and minus points of each application.
1. Gorgias – Live Chat & Helpdesk
Gorgias is an ecommerce-specific customer support help desk. They have Shopify, BigCommerce, and WooCommerce integrations. They offer a terrific Shopify integration that allows support employees to provide excellent customer service in a smooth manner.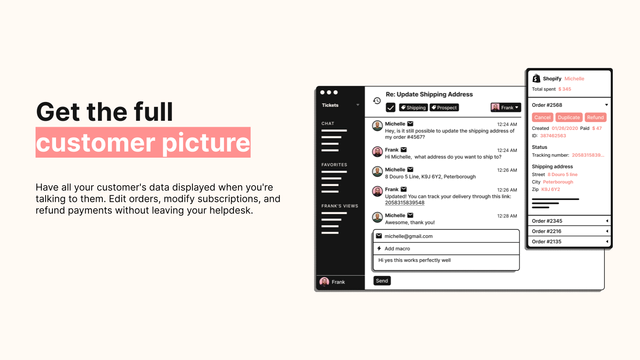 Gorgias – Live Chat & Helpdesk
Pros:
Gorgias provides a comprehensive Shopify interface that allows you to extract customer data directly into the dashboard. It also aids in the modification of orders, the triggering of refunds, and a variety of other tasks that would otherwise necessitate a visit to the Shopify admin panel.

Custom tags can be used to tag talks in Gorgias for future reference.

Gorgias interfaces with the majority of the support channels, including email, Facebook, Instagram, and others.

You may use Macros to build highly tailored responses to frequently asked queries.

Finally, they provide intent-detection, which allows you to identify consumer intentions such as shipment, refunds, and exchanges, among others. The tickets may then be routed using tags or you can set up automated responses.
Cons:
Gorgias is not an easy program to use. To correctly extract value from the product, there is a high learning curve.

It's prohibitively pricey. The full-featured package costs $750 per month, with a monthly ticket limit of 6000.

On Gorgias, collaborating isn't always simple. It's tough to transfer a chat to another support representative or seek assistance when you need it. You can wind up collaborating with your team utilizing another internal chat service. 

Many consumers feel Gorgias is more of a ticketing system than a communication tool, which is a matter of personal choice. Instead of treating people like dead tickets, business owners in 2021 like to engage with them.
2. Reamaze Live Chat & Helpdesk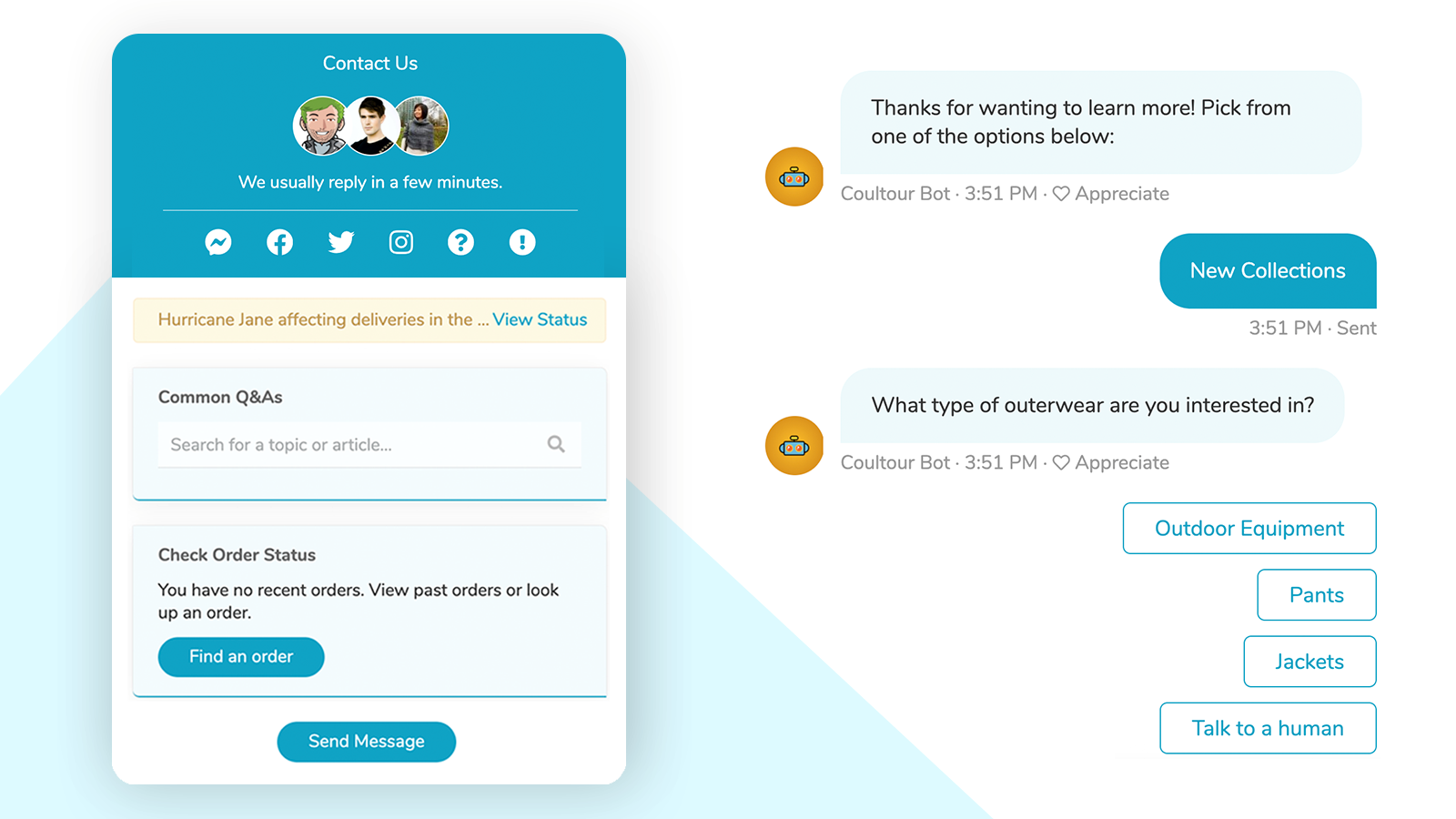 Reamaze Live Chat & Helpdesk
Another excellent Shopify customer support software for ecommerce businesses is Reamaze. It aids your team in efficiently resolving consumer issues. One of Reamaze's key attractions is its live chat.
Pros:
Because of its personalized chat experience and fast 'check order status' bot, Reamaze is noted for its live chat function. Other features include a FAQ search, a status page (where you can see whether your purchase is delayed), pre-built bots, and more.

Cues, their chatbot function, may let you send messages depending on URL/UTM, time spent on site, Shopify activity, and other factors. You'll be able to customize your customer's experience on a deeper level as a result of this. Through their live dashboard, you can observe which people are now interacting with your site. With this information, you may try to deliver a customized message to make a sale or merely assist them more effectively.

It's also one of those solutions that works with a wide range of ecommerce systems, including Shopify, BigCommerce, WordPress, Magento, and others. It also complies with GDPR, giving you peace of mind while selling in the European market.
‍Cons:
Reamaze's collaborative functionality isn't exactly user-friendly. You may need to interact on a completely other medium, such as Slack or WhatsApp, by sending screenshots from Reamaze, to handle customer support effortlessly.

Reamaze bills on a per-user, per-month basis. When your support tickets expand and you need to add more reps to the team, this might get costly.

It's more focused on ticket resolution than on having a dialogue with a consumer and developing a connection.
3. Verloop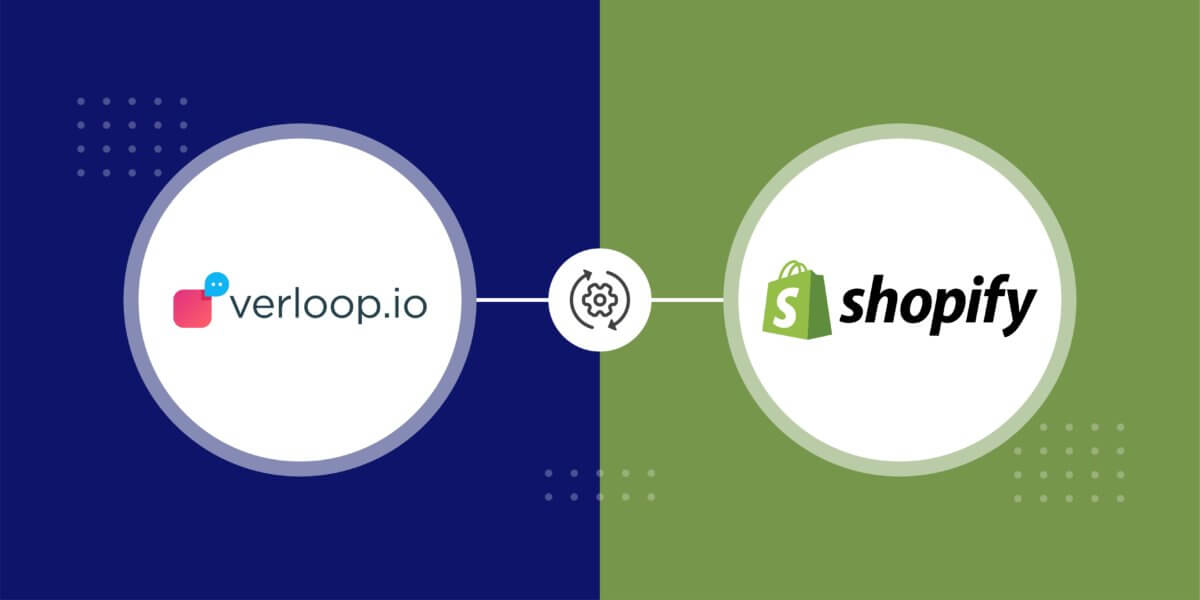 Verloop
Verloop assists companies in delivering engaging experiences across several media. Their conversational AI technology employs powerful natural language processing and machine learning to automatically handle client concerns. It enables you to mimic in-store help across all channels for your online business.
Pros:
While chatting with a customer, Verloop allows you to keep track of their purchase history, location, and past interactions all in one spot.

Even before they ask, you may keep your consumers informed about their purchases, shipments, refunds, and special offers.

Conversational data created by your customers and representatives is used by the bots to learn. Also, use predictive analysis to better understand consumer behavior and engagement.

Verloop's dashboard allows you to access real-time data and track the KPIs of your agents and bots. Giving you specific insights so you always know what's going on.
‍Cons:
It isn't a tool designed exclusively for online sales. As a result, it could not take into consideration your company's individual goals and requirements.

Setting up and learning how to use the tool might take some time.

According to user reviews, the app might be a little sluggish. And it takes a long time for new chats to load, switch between chats, and so on, resulting in sluggish answers.
4. Richpanel Customer Support CRM
Richpanel is an ecommerce customer service application that automates the management of Shopify customer care. Richpanel allows you to quickly track, manage, and handle requests. You have complete control over all of your support channels, including live chat, email, WhatsApp, Facebook, and Instagram. This saves time and allows support staff to be more productive.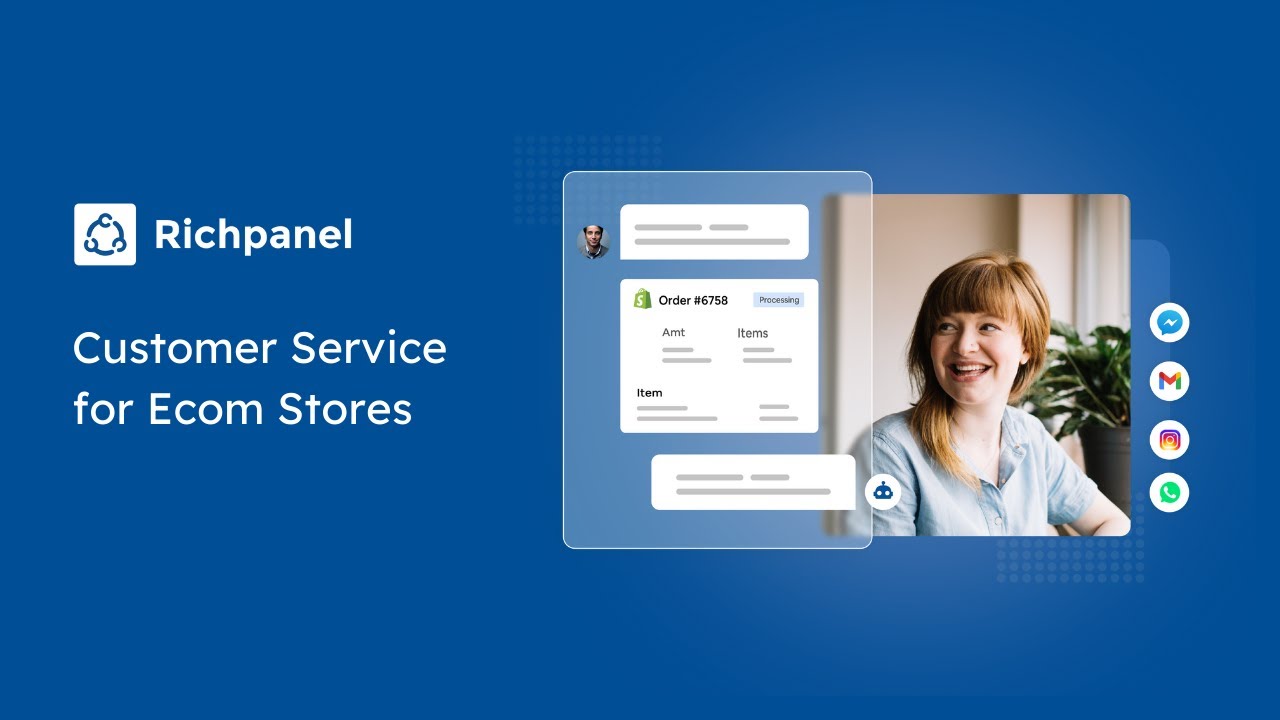 Richpanel Customer Support CRM
Pros:
Richpanel saves you time by combining the most frequently used support channels into a single dashboard. Live chat, email, Facebook, Instagram, and WhatsApp are all examples of this.

With its self-service function, you may reduce up to 30% of recurring support queries. Customers may view/track orders, read FAQs, and start a new discussion through a tailored experience.

It works with leading ecommerce systems such as Shopify, Magento, and WooCommerce.

You may develop self-service processes in Richpanel to address the most frequent cases for your assistance.
Cons:
Richpanel, according to several customers, may be rather tough to use. To put it another way, it's not really intuitive.

Their cost starts at $249 a month for 1000 client conversations and can add up quickly.

Richpanel isn't designed to work in tandem with your team. In order to collaborate with your teammates on a daily basis, you may need to use another tool.

The amount of orders you may handle on Richpanel is limited. You can only handle 1000 orders per month on their cheapest package.
5. UVdesk
UVdesk is a Shopify helpdesk that provides ecommerce shop owners with a cloud-based and open source helpdesk solution for managing client interactions. Support ticket management, task and email management, and customer follow-up monitoring are all available through multi-channel support and third-party interfaces.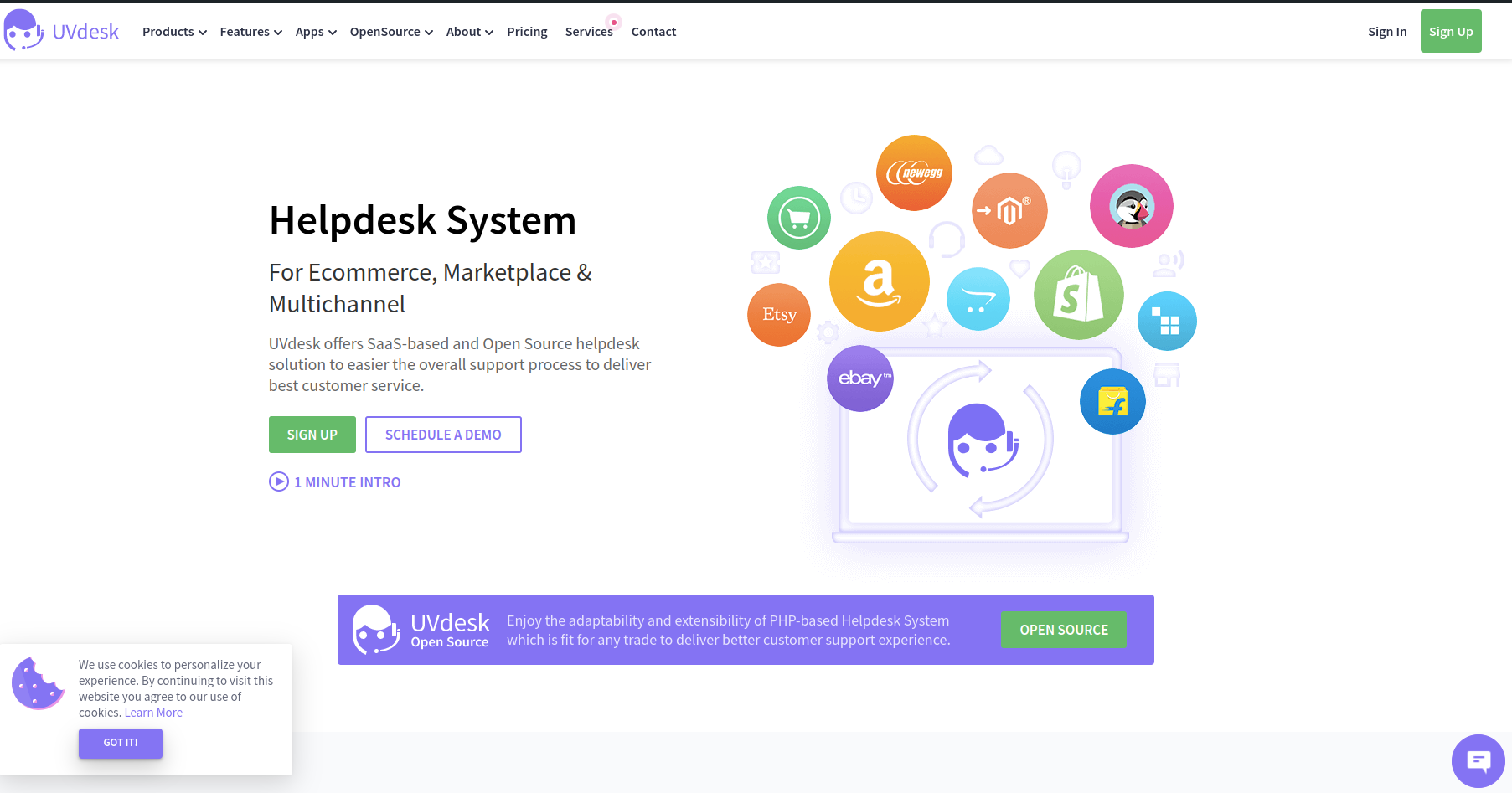 UVdesk
Pros:
UVdesk is an ecommerce-specific customer support product that takes into account the unique needs of ecommerce firms.

To reply quicker, you may automate your procedures by building a set of rules and presets for requests received through various channels.

You may use tags, priority, status, and labels in UVdesk to find and manage customer discussions more efficiently. With features like agent assignment, private notes, and reply forwarding, your team can work together seamlessly.

UVdesk provides an open-source help desk that is fully free to use in addition to its premium pricing alternatives.
Cons:
For first-time users, the layout might be frightening and complicated. To get value out of the product, you'll have to go through a high learning curve.

The error messages displayed are not always clear. This means you won't know what's causing the issue and will need to seek clarification from their support staff.

There have been instances of scripted answers being delayed, forcing agents to deliver these messages manually instead.
6. Zendesk Support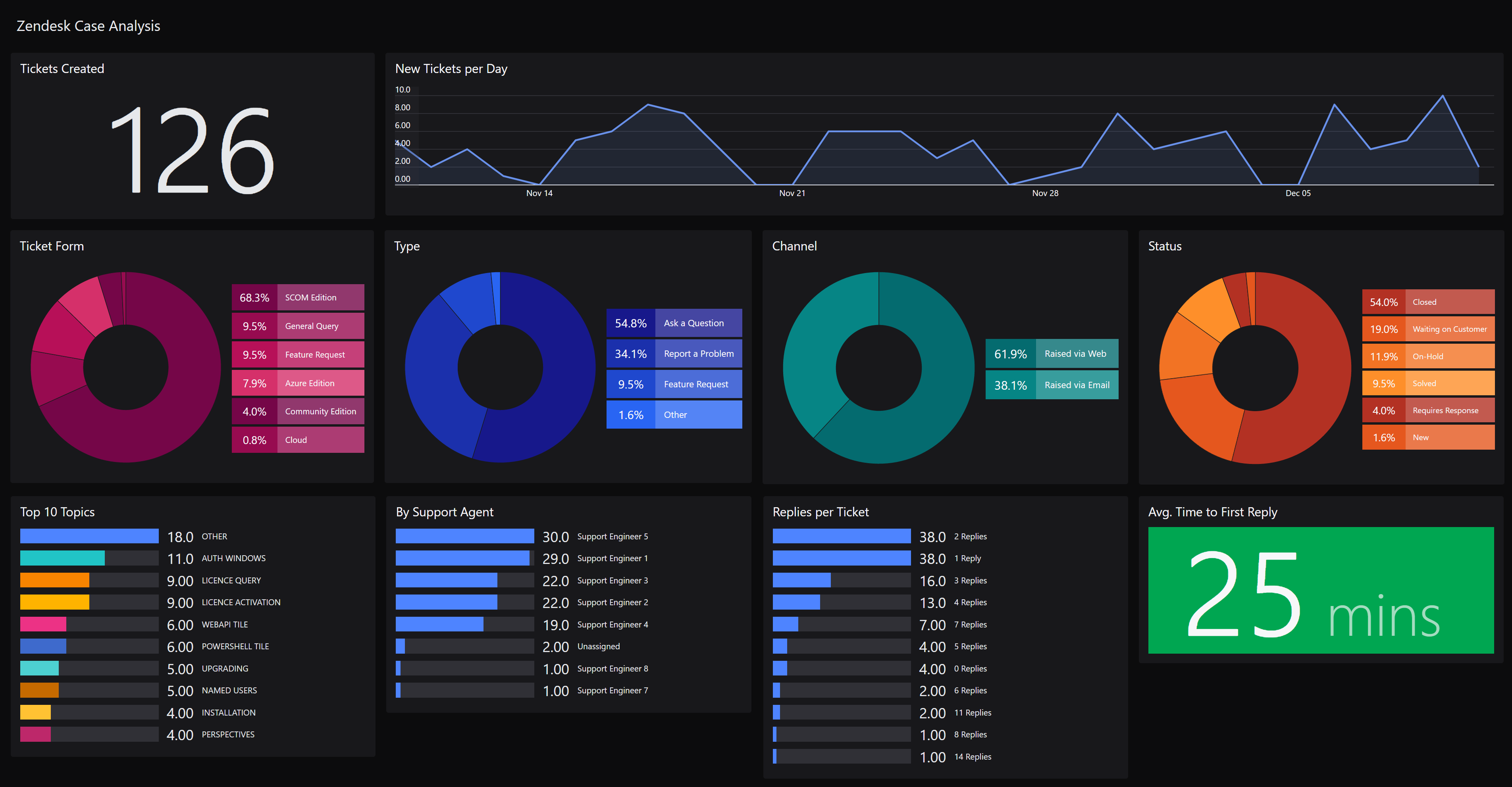 Zendesk Support
Zendesk is a multibillion-dollar SaaS firm that provides customer support software to businesses. Zendesk has a vast number of features, interfaces with practically all of your apps, and caters to a wide range of industries. If customer care software were considered an industry, Zendesk would be near the top.
Pros:
Zendesk is widely regarded as having one of the best live chat systems on the market. Behavioral triggers, live visitor monitoring, conversation ratings, file sending, and more capabilities are included in this chat tool.

It has a comprehensive FAQ function that allows you to save your visitors' most frequently asked questions as well as useful information about your ecommerce shop.

Aside from that, it provides a single communications interface via which you may natively respond to consumer concerns. Zendesk works with platforms like WhatsApp, WeChat, and Facebook.
Cons:
Zendesk is cumbersome, tedious, and unintuitive. It can be nearly hard to navigate without a sales representative's assistance.

Zendesk is a rather general-purpose tool. It's not designed for online businesses. Ecommerce businesses have unique demands, and their customer service requirements are distinct from those of other sectors.

It is really costly. The Professional package for their support suite is $89 per month per user.

On Zendesk, you can't simply collaborate with your coworkers. They offer basic collaboration tools, but they don't make it easy to conduct a smooth discourse.
7. Tidio Live Chat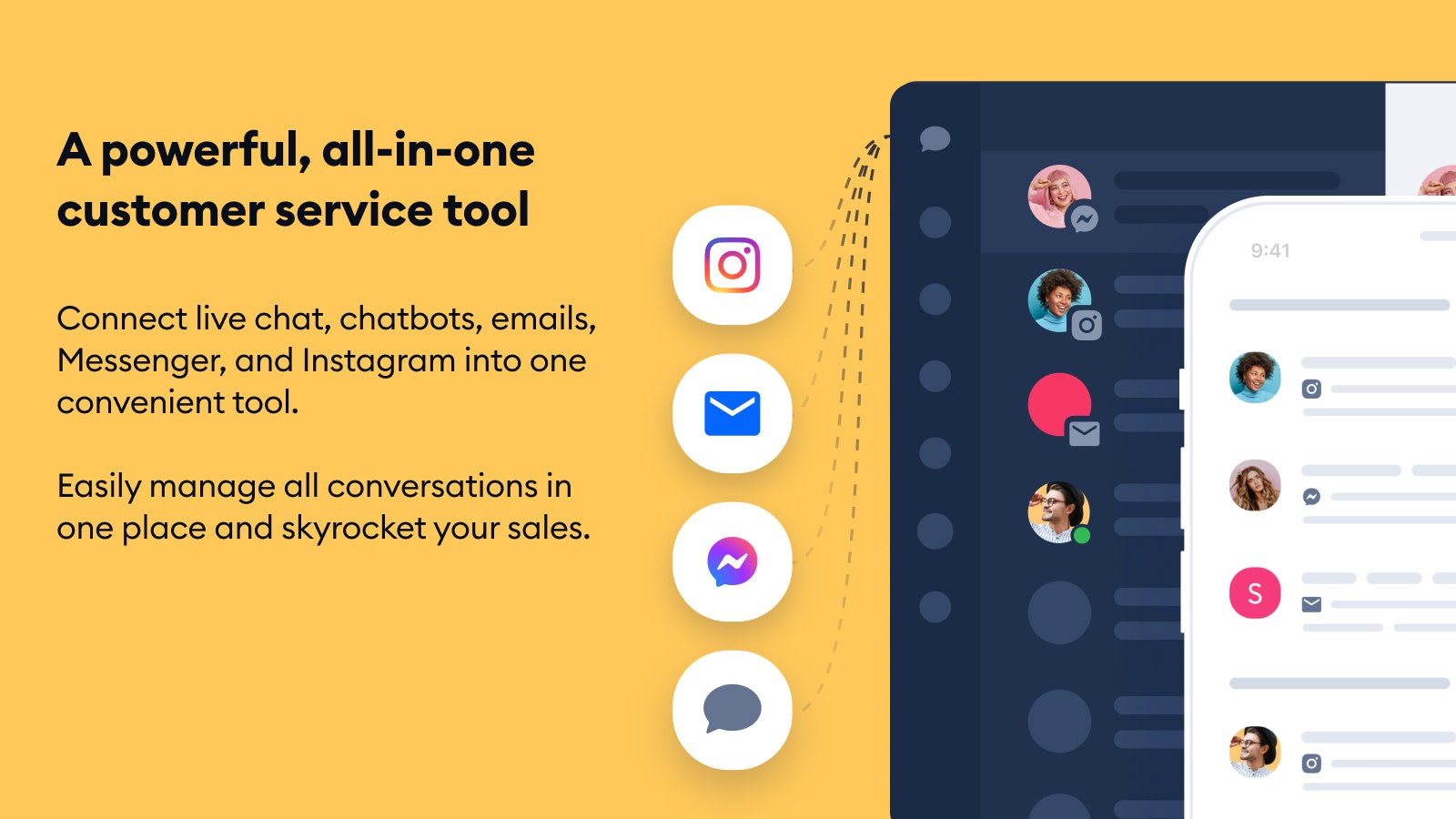 Tidio Live Chat
Tidio is a fantastic customer support solution that may assist ecommerce businesses in having more productive discussions with their consumers. Tidio allows you to stay in touch with your consumers and respond to their questions in a fast and effective manner. It comes with tools to assist your agents better manage customer service.
Pros:
Tidio allows you and your team to keep track of interactions across live chat, messenger, and email from a single interface.

Through customisable widgets, Tidio's live chat lets you engage with visitors in real time.

You may also automate your clients' most commonly asked inquiries, saving your agents time.

Tidio integrates with the majority of popular business software that you'll use on a regular basis.
Cons:
Tidio is not a tool designed just for ecommerce store owners. This indicates that this tool will not be able to meet your exact set of criteria.

Tidio does not allow you to manage client discussions via Whatsapp, Instagram, or Twitter.
Each app has its own advantageous and disadvantageous points; we understand how difficult it may be to select the appropriate software. These are the top applications we discovered throughout our search and want to share, and we truly hope that one of them is the appropriate fit for your shop.